Wedding Food Tasting Tips (For Caterers!)
If you're interested in catering you probably already know how important wedding celebrations are to the business. Some of your biggest, and more complex clients, will be weddings. Today's engaged couples are willing to spend a great deal of their wedding budget on the finest food for their guests. But first, they want a tasting.
As a top-notch caterer in the culinary arts industry, you will need to be able to provide a professional and delicious food tasting for your guests. Here is some information and advice about how to perform a tasting and impress your brides and grooms.
What Is A Food Tasting Session?
Weddings are important occasions. As such, everything has to work out as planned. One of the important aspects of a wedding is the food. Thankfully, professional caterers exist to ensure you enjoy your signature cocktails or desserts. Based on this approach, food-tasting sessions have become common.
Caterers specialized in weddings understand the importance of delivering quality food. Their work not only involves cooking and following the correct recipe, it covers the presentation aspect as well. To increase the chances of getting positive feedback, they can recommend their signature dishes for the brides and grooms, and their close friends and family attending the session.
In most cases, the couple planning the wedding will recommend preferred dishes, drinks, and cocktails. However, the addition of your signature meals could add some flavor into the tasting session, literally. With your professional training and experience, you can also throw in a couple of new dishes that you have recently started preparing. The bottom line here is correctly choosing the food to prepare.
Foods to Prepare
Despite your culinary skills, the dishes you opt to prepare for a given wedding could determine whether you impress the soon-to-be-married couple or not. However, you can implement a simple hack during the choosing process. Since honing your communications skills is one of the things you will learn at a reputable institution offering an associate degree in culinary arts, you will find it easy to interact with the wedding planners.
Few interviews could be what you would need to find out the specific food preferences and tastes for the bride and groom. Based on that, you will not only find it easy to identify the appropriate dishes to prepare, but also determine the best cooking methods and approaches. In case of new meal suggestions, you will have to develop the recipe.
Choosing which foods to prepare for a food tasting session and the eventual wedding should also consider the theme of the wedding. Work closely with the couple, wedding planner, and photographs to consolidate your ideas regarding fusing your food choices, preparation methods, and presentation with the theme. Nicely presented food is always half the job done before the tasting.
The referenced media source is missing and needs to be re-embedded.
Expected Feedback
It is important to note customer feedback as a professional caterer. Not only will the feedback allow you to know the satisfaction level of your clients, but also on your catering aspects that you need to change or improve. For the best feedback, take keen interest on what the brides and grooms, and their close circle comment while tasting your food.
On many occasions, it may not be possible to impress all the participants taking part in a food tasting event. However, it is still necessary to note their dissatisfaction. That way, you will know how to incorporate their suggestions.
Other ways of getting feedback also exist. The most common one is by inviting objective food bloggers and reviewers. After the tasting session, these reviewers do post their objective opinions and suggestions online. As such, you could access such online platforms and note their feedback.
Incorporating Necessary Changes
Given the fact that you would want to deliver the best food during the wedding after a food tasting session, it is important to make the necessary food preparation changes. The changes that a caterer has to make varies from one event to another. The less challenging change to implement based on feedback regards the presentation of the dishes.
On the other hand, complaints regarding the taste of food or ingredients used means that you have to modify the recipe. This could also lead to changing the cooking method. Regardless of the change that you have to make, it is important to deliver according to the clients' preferences. You may have the basic level skills, advanced, or management role as a qualified caterer. Regardless of your role, it is important to implement carefully the necessary changes based on the feedback received from the tasting session.
Clearly, food tasting sessions give caterers a second chance in preparing the best dishes at weddings. The sessions allows for feedback from the engaged couple. Making the necessary changes based on the feedback will allow you to impress everybody.
Are you excited about performing food tastings for a future married couple? If you'd like to learn more about becoming a caterer consider the ECPI University's Culinary Institute of Virginia. Our Associate of Applied Science in Culinary Arts program teaches both the culinary and the management techniques you will need to prepare for the catering industry. For more information, contact a friendly admissions counselor today.
It could be the Best Decision You Ever Make!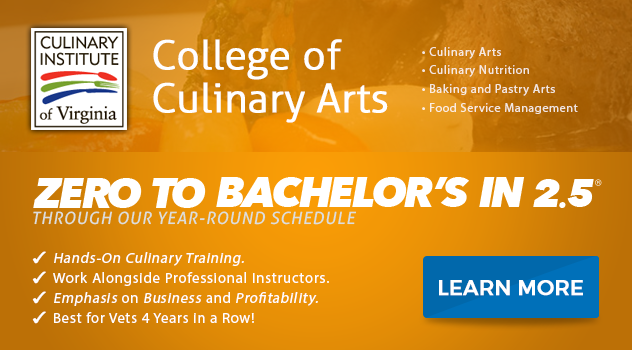 DISCLAIMER – ECPI University makes no claim, warranty, or guarantee as to actual employability or earning potential to current, past or future students or graduates of any educational program we offer. The ECPI University website is published for informational purposes only. Every effort is made to ensure the accuracy of information contained on the ECPI.edu domain; however, no warranty of accuracy is made. No contractual rights, either expressed or implied, are created by its content.
Gainful Employment Information – Culinary Arts - Associate's
For more information about ECPI University or any of our programs click here: http://www.ecpi.edu/ or http://ow.ly/Ca1ya.