What Can a Nurse Practitioner Do: Understanding the Responsibilities of an MSN
Did you know that the career of nurse practitioner started about 50 years ago when Dr. Loretta Ford, a public health nurse, initiated the first such program at the University of Colorado? Since then, the advantages and value nurse practitioners bring to the medical field has become readily apparent by healthcare organizations everywhere and an exciting number of schools now offer the same type of curriculum.

So What is a Nurse Practitioner?
When Dr. Ford set up her program, she did so with the vision for a completely new role for nurses. In that role, they went beyond the normal scope of a bedside aide and became near doctors themselves with the capability to assess, diagnose, and even treat medical conditions on their own.
She saw the profession as being an extension of the general physician's and one that could be used to greatly benefit the health of children and families without ready access to a licensed medical doctor. This was revolutionary at the time as in 1964; nurses were not even allowed to use stethoscopes. Today, we would be shocked to see a nurse without one!
Today, nurse practitioners serve as independent licensed healthcare providers for millions of Americans. Registered nurses with a higher education and training if a certain area, such as family practice or pediatrics, are eligible to become nurse practitioners. The higher education required includes having obtained a master's degree, known as an MSN, and having passed board certification in their chosen specialty.
Duties, Roles, and Responsibilities of a Nurse Practitioner
The role of the nurse practitioner has evolved since Dr. Ford's day and has become much broader than she initially envisioned. Today's nurse practitioners may focus on any number of specialties, including family care nursing, women's health nursing, and adult care nursing, just to name a few.
They are often seen in management roles and it is a position that is most recommended for people who thrive in environments in which they are expected to offer health and emotional care to patients as well as work with a diverse array of colleagues, often in a management role.
A few of the general duties and responsibilities of a nurse practitioner with an MSN degree can expect to encounter on a daily basis include:
Prescription writing. A nurse practitioner has the same authority as a doctor when it comes to writing prescriptions for patient medications and is often charged with determining the correct dose and frequency.
Diagnose and treat patients. A nurse practitioner is expected to be able to treat a variety of infections, illnesses, and various injuries.
Conduct and order diagnostic tests. A part of diagnosing and treating such injuries and illnesses often requires special testing. A nurse practitioner is expected to thus determine which tests are necessary for a given patient and order diagnostic testing to be performed at their request. Such tests include x-rays and electrocardiograms or EKGs.
Take charge of the medical charts. As part of their normal duties, nurse practitioners are often charged with the top authority of recording and examining a patient's medical chart and history. This includes examining the history of a patient to understand the long-term diagnosis and symptoms of a patient before making a present recommendation.
Speak with patients regarding their health. Nurse practitioners are not just behind the scenes authorities. They are also the ones often administering most of the care for their patients, speaking with them about designing appropriate treatment plans, how to best effectively manage their health, and making recommendations on further care.
Manage office staff. In small offices and healthcare organizations, nurse practitioners also often fulfill a managerial role in overseeing the overall workflow of a given location. Office roles may include scheduling and assigning other nurses and managing new incoming patients.
Obtaining Your MSN Degree & Becoming a Nurse Practitioner
A career as a nurse practitioner is a very rewarding one for those who enjoy helping others and are looking for a position in which they will have a degree of autonomy. Nurse practitioners play an important and integral role in the healthcare industry that enables them to enjoy many of the same roles and responsibilities as licensed physicians. Also like licensed physicians, nurse practitioners do have to undergo significant post-Bachelor's studies in order to practice.
Are you an RN interested in moving ahead in your career? If you want to earn your Master of Science in Nursing Degree, ECPI University might be the right choice for you. We offer an online program at an accelerated pace to help fit better into your busy life. For more information about this exciting program, connect with a friendly admissions advisor today.
It could be the Best Decision You Ever Make!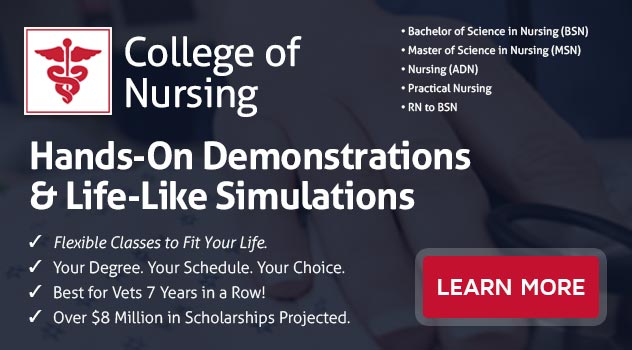 DISCLAIMER – ECPI University makes no claim, warranty, or guarantee as to actual employability or earning potential to current, past or future students or graduates of any educational program we offer. The ECPI University website is published for informational purposes only. Every effort is made to ensure the accuracy of information contained on the ECPI.edu domain; however, no warranty of accuracy is made. No contractual rights, either expressed or implied, are created by its content.
Gainful Employment Information – Master of Science in Nursing
For more information about ECPI University or any of our programs click here: http://www.ecpi.edu/ or http://ow.ly/Ca1ya.