What Can you Do With a Master's Degree in Nursing Education?
Nursing is a rewarding profession, attracting many people interested in the medical field. However, it can also be a physically demanding job, and at some point many nurses find the work required to care for patients to be too taxing. At that time, a good many nurses are drawn to explore nursing education.
Nurse educators, whether they work in a classroom or a practice setting, are tasked with ensuring that the next generation of nurses is well prepared. They serve as mentors and role models, and provide crucial leadership in developing and implementing educational programs for nurses. They are also in pivotal roles for assuring that programs are up-to-date and relevant, so that graduates are current on technological advancements and medical breakthroughs.

Paths in Nursing Education
The most common path for a nurse educator is to hire on with a nursing school, either at a two-year or four-year college. There they help students pursue an associate degree so they can qualify as an RN, or a bachelor's degree to seek work as an RN. They may teach classes, offer NCLEX exam prep, and provide one-on-one tutoring to nursing students. 
Nurse educators with master's or doctorate's degrees in nursing can hire on as faculty of graduate-level nursing program. The higher the level of education you acquire, the more qualified you will for a higher level of responsibility.
Roles in Nursing Education
Nursing educators perform a variety of tasks in addition to teaching a new generation of nurses. They help develop and evaluate curricula and programs, oversee students' clinical work, or (if they move on to supervisory roles) serve as department chairs, perform faculty performance reviews, write and review textbooks, and serve on institutional committees and local boards to help advance nursing education as a profession.
While most nurse educators seek teaching jobs in community colleges, bachelor's degree-appointing universities, graduate schools, and proprietary schools, there are other roles they can pursue, such as:
Community educator for government agencies
Health care settings as staff development officer or clinical supervisor
Training nurses in clinics and hospitals
Evaluating curricula as a consultant for teaching institutions
Grant writing
Conducting or assisting with research
What a Master's Degree in Nursing Can Do for You
The more advanced education you attain in nursing, the higher the level of jobs you may aspire to. As mentioned above, some of the jobs a master's in nursing education can prepare you for include college faculty, chair, or dean positions, but there are many other possibilities, including these:
Patient educator
Faculty development director
Program manager
Community health services manager
Medical textbook editor
Emergency and disaster preparedness educator
Military nursing educator
International healthcare organization educator or director
International critical care manager
Center for Disease Control nursing administrator
Public health adviser
Whether you want to stay close or go much farther afield in your profession as nursing educator, a master's degree may open the door to ever-more responsibility and leadership in the nursing field. 
Is Nursing Education Right for You?
Not everyone is cut out to be a nursing educator. If you've been in nursing for a while, and have decided you want to go in a direction other than patient care, you may find a wide variety of fields where your skills are useful.
Are you interested in becoming a nurse educator? If you are an BSN looking to earn your Master of Science in Nursing, ECPI University could be the next step for you in your nursing journey. For more information about this exciting program, connect with one of our helpful admissions advisors today.
It could be the Best Decision You Ever Make!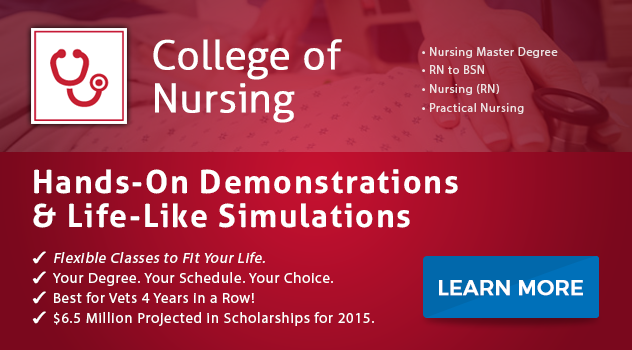 DISCLAIMER – ECPI University makes no claim, warranty, or guarantee as to actual employability or earning potential to current, past or future students or graduates of any educational program we offer. The ECPI University website is published for informational purposes only. Every effort is made to ensure the accuracy of information contained on the ECPI.edu domain; however, no warranty of accuracy is made. No contractual rights, either expressed or implied, are created by its content.
For more information about ECPI University or any of our programs click here: http://www.ecpi.edu/ or http://ow.ly/Ca1ya.