What is Homeland Security and what Jobs are Available?
You hear a lot about homeland security, but what is it, really? Its exact definition is:
Whether it's a planned event like the Super Bowl, or a catastrophic event such as a hurricane, the Department of Homeland Security (DHS) . . . is ready to work with businesses, communities, and local governments across the United States to enhance the security and resilience of the nation's critical infrastructure and to prepare for and recover from any hazard facing us.
Working for Homeland Security
You don't necessarily work for the government in order to work with the government.
The keyword in the definition of DHS is "infrastructure." The DHS and its representatives play a vital role in information sharing with public and private sector partners. In fact, the majority of our national infrastructure is owned and operated by private companies.
What that means for those of you interested in studying and specializing in homeland security as a profession, is this: You may be an active, necessary part of our country's homeland security while not "directly" working for our government. You could be one of any number of employees in a small- to mid-size company that is a homeland security partner. However, the government is eagerly seeking applicants for homeland security.

Jobs for Homeland Security Professionals
A degree in homeland security can be the beginning of a fulfilling career serving your community, state, and/or country. For example, many organizations and communities utilize the services of emergency management directors, and this is a career showing a steady growth.
Your bachelor's degree in homeland security may also qualify you for employment with:
Department of Homeland Security and/or its partners
FEMA (Federal Emergency Management Association)
Intelligence-gathering organizations
Law enforcement agencies (local and federal)
Private security
Transportation protection/security
U.S. Border Patrol
U.S. Customs
Some similar occupations include:
Budget analyst
Corporate management
EMTs/paramedic
Firefighter
Management analyst
Police and/or detective
Homeland Security and Skills Needed
In addition to a bachelor's degree, employers prefer emergency management professionals who have the following skills:
Communications
Critical-thinking
Decision-making
Understanding of diverse populations
Some character traits, such as honesty, cannot be taught, but you can develop qualities, knowledge and skills needed to be a homeland security professional. Upon completion of your curriculum specializing in homeland security, you should be able to:
Analyze human behavior and its impact on crime
Be professionally knowledgeable about legal issues in Homeland Security
Develop an action plan when sensitive data is compromised
Develop emergency planning initiatives
Evaluate the evidence to support a criminal justice case or proposal
Have multi-cultural and international communication skills as well as understand the ideologies of other cultures and countries
Integrate scientific inquiry into criminal justice analyzes
Integrate standards to meet criminal justice operational requirements for groups
Understand and develop terrorism management and counter-terrorism measures
Work in and with law enforcement, security, surveillance, Homeland Security operations, and investigations
There is nothing more important to our Nation's future, to our homeland security, and to our economy than ensuring we have a top-notch educational system that is the envy of the world. -Jim Jeffords
Homeland Security Degree Program at ECPI University
Are you interested in a career in homeland security? If you want to earn a Bachelor of Science in Criminal Justice with a Focus in Homeland Security, ECPI University offers this degree program. For more information, connect with a friendly admissions counselor today.
It could be the Best Decision You Ever Make!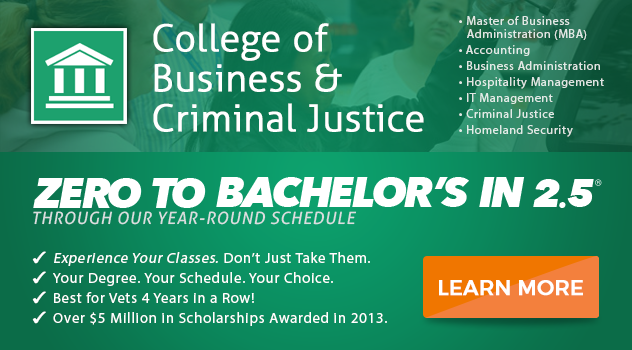 DISCLAIMER – ECPI University makes no claim, warranty, or guarantee as to actual employability or earning potential to current, past or future students or graduates of any educational program we offer. The ECPI University website is published for informational purposes only. Every effort is made to ensure the accuracy of information contained on the ECPI.edu domain; however, no warranty of accuracy is made. No contractual rights, either expressed or implied, are created by its content.
Gainful Employment Information – Homeland Security - Bachelor's
For more information about ECPI University or any of our programs click here: http://www.ecpi.edu/ or http://ow.ly/Ca1ya.