What is it like to Work for Homeland Security?
With rising instability in the world today, protecting the nation from external and internal threats is more important than ever. The Department of Homeland Security is an omnibus organization including some of the most well-trained and organized security personnel in the world with a unified mission to protect the people, property, and infrastructure of the nation from strategic threats.
If you want to join this mission and serve your country, joining one of the organizations that make up the DHS may be a great career path to pursue. To help you make this decision, we are taking a closer look at what it is really like to work for the Department of Homeland Security.

What Kinds of Jobs are Available in Homeland Security?
Working at Homeland Security may not be as you have pictured it. It is actually an organization that needs many different people with a wide variety of skillsets. Although they are the most visible element in homeland security, law enforcement and criminal justice personnel are only one part of the massive homeland security apparatus that works to address a variety of issues ranging from protection of agricultural resources to the growing opioid crisis.
The department employs non-LEO security officers, computer science specialists, linguists, technicians, intelligence analysts, paralegals, public affairs professionals, and many more career paths that you may have never considered. However, getting any of these specialized positions may require previous federal service as they tend to be filled with an internal hiring process. An entry-level position in the department usually requires a specialized associate's degree or, preferably, a bachelor's degree.
The Importance of a Homeland Security Degree
The career field of homeland security faces unique challenges, and those with an education that prepares them to face them hold a distinct competitive advantage. While the diplomas of many degree programs will be accepted as a qualification for federal employment, there is a preference for a degree with an emphasis on law enforcement or homeland security when applying for a DHS position. The department is made up of a wide variety of agencies each with a distinct mission. These agencies include:
United States Citizenship and Immigration Services: Responsible for the process and examination of requests from foreign nationals for asylum, residency, and citizenship.
U.S. Customs and Border Protection: Enforces U.S. laws on international land, air, and sea border areas as well as ports of entry.
U.S. Immigration and Customs Enforcement: A law enforcement agency charged with the investigation, detention, and deportation of aliens who are in violation of immigration law.
Transportation Security Administration: The organization in charge of passenger and baggage screening at airports, train stations, and water transportation.
United States Coast Guard: Military branch attached to homeland security for the purposes of maritime security and protection of national resources.
United States Secret Service: A versatile law enforcement organization tasked with the investigation of crimes in the financial system as well as personal protection of the leaders of the executive branch and foreign heads of state.
Federal Emergency Management Agency: Provides federal oversight for efforts to respond to natural disasters and states of national emergency.
One of the benefits of a degree in homeland security is that it may qualify you to work for any number of these agencies as well as certain advisory groups and additional components within the agency that are looking for qualified applicants with a wide breadth of knowledge about the challenges facing homeland security efforts. Educated homeland security professionals also may find opportunities working for civilian contractors who work closely with the agencies to help them accomplish their mission.
Are you ready to begin a career in the exciting field of homeland security? Start by getting the degree that will help you learn the skills you will need for your chosen career. Contact our friendly admissions staff at ECPI University today to discover how you could earn a Bachelor of Science in Criminal Justice with an emphasis in Homeland Security in as little as 2.5 years with our year-round program.
It could be the Best Decision You Ever Make!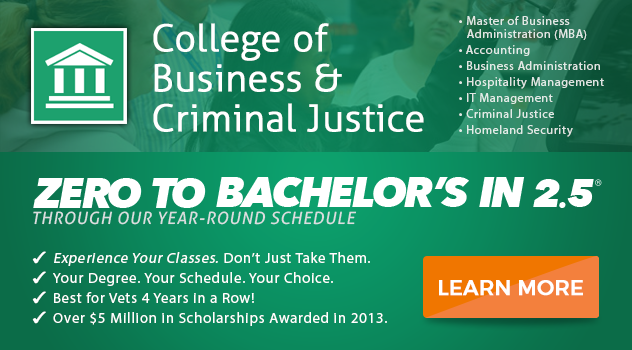 DISCLAIMER – ECPI University makes no claim, warranty, or guarantee as to actual employability or earning potential to current, past or future students or graduates of any educational program we offer. The ECPI University website is published for informational purposes only. Every effort is made to ensure the accuracy of information contained on the ECPI.edu domain; however, no warranty of accuracy is made. No contractual rights, either expressed or implied, are created by its content.
Gainful Employment Information – Homeland Security - Bachelor's
For more information about ECPI University or any of our programs click here: http://www.ecpi.edu/ or http://ow.ly/Ca1ya.