What Percentage of Nurses Work in Hospitals: Where Else Could I Work as a Nurse?
Obtaining a degree in nursing opens a completely new world of career opportunities in a vast array of settings. While some with nursing degrees opt to work in hospitals and other medical facilities, many others choose non-traditional medical setting upon licensure.
With the need for nurses and other medical professionals increasing as the population gets older and are on the receiving end of health maladies, jobs in the medical field are plentiful. In fact, the job market for registered nurses is anticipated to grow at least 15% through 2026, which is faster than the average for most other occupations.
What Percentage of Nurses Work in Hospitals: Where Else Could I Work as a Nurse?
Working in a Hospital Setting
According to the Bureau of Labor Statistics, in 2016, there were over "30 million nursing jobs" and of those, 61% of nurse are employed at state, local and private hospitals. Having skilled nurses in a hospital setting is critical.
They are responsible for patient care, educating patients about their health conditions and act as a sympathetic caregiver, which patients come to trust since they have more interaction with the patients then physicians do.
Other typical responsibilities include:
Assess illness and patients' condition
Record medical histories and current symptoms
Observe patients and report
Review and provide medication and assigned treatments
Help coordinate patient care, provide information and keep family apprised of treatments
Act as a "go between" between physician and patient
Operate and operate equipment and assess results
Perform tests
Provide instructions for home care
For those that work in hospitals, many specialize in certain areas:
Addiction
Cardiovascular
Critical care
Neonatal
Pediatric
Oncology
Nephrology
Geriatric care
Rehabilitation
Clinical nurse specialists
Surgical nurses
The hospital environment offers nurses the opportunity to elevate their roles to charge and floor nurse and management positions. Many nurses decide to continue their medical education becoming physician assistants and other higher-level medical degrees.
Other Options for Nursing Graduates
Many nursing graduates choose not to work in hospitals and choose other job options in the medical field, but which are equally as important and rewarding.
Many choose jobs in a variety of industries:
Clinics, primary care and private physicians' offices
Assisted living and nursing homes
Hospice care
Rehabilitation centers
Home healthcare, visiting nurses
Public health nurses
School and industrial nurses
Teaching positions
Short, intermediate and long-term care nurses
Outpatient centers
Mental health agencies
Military nurses
Research nurses
Choosing the Right Nursing Degree
Before you determine what nursing degree is best for you, you need to determine what career path you want to pursue. Once you decide, you will then be able to research the best program for your individual needs and career goals.
Most courses of study will give students a chance to determine if there is a key area that they want to focus on. Primary courses include:
Anatomy and Physiology
Microbiology
Nutrition
Pharmacology
Acute/emergency care
Medical and surgical care
Maternal/neonatal nursing
After taking these classes, most students find that they prefer a certain medical niche and choose courses that enable them to practice in that field after they graduate and pass the State Board of Nursing Exam or National Council Licensing Exam for Practical Nurses for practical nurses.
Even those that want to begin their careers as soon as possible may opt to continue their education later, to increase job options. ADN nurses can return to earn their Bachelor of Science in Nursing (BSN), or even a Master of Science in Nursing (MSN).
Pursuing Your Nursing Degree
Are you interested in a career in nursing? If you want to earn an Associate Degree in Nursing (ADN), ECPI University offers this program at an accelerated pace. For more information regarding this exciting opportunity, connect with a friendly admissions advisor today.
It could be the Best Decision You Ever Make!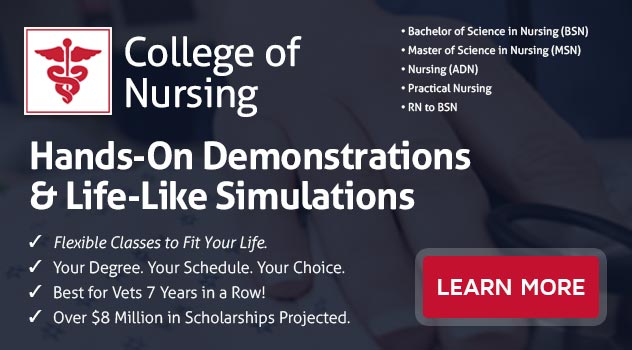 DISCLAIMER – ECPI University makes no claim, warranty, or guarantee as to actual employability or earning potential to current, past or future students or graduates of any educational program we offer. The ECPI University website is published for informational purposes only. Every effort is made to ensure the accuracy of information contained on the ECPI.edu domain; however, no warranty of accuracy is made. No contractual rights, either expressed or implied, are created by its content.
Gainful Employment Information – Nursing - Associate's
For more information about ECPI University or any of our programs click here: http://www.ecpi.edu/ or http://ow.ly/Ca1ya.