Why is Baking Considered an Art Form?
Professional bakers enjoy fast-paced days filled with good food and personal satisfaction. A large part of the fulfillment bakers get from their jobs comes from the artistic nature of the baking business. How is baking an art form and how can those seeking a future in baking use training programs to perfect their craft?

Baking as Art Form
Art is the use of a technical skill to communicate something. The artist applies their creative imagination to the basic framework of their chosen medium to produce an original piece. Guitar players use the same notes and types of instruments but make music that is vastly different.
All baked goods are made from a few basic ingredients. As an artist, the baker uses scientific knowledge of the chemistry of baking to create unique yet familiar dishes. Their experience and personal philosophies play a large role in the way they work. Bakers use flavor, texture, and visual appeal to produce an edible art piece.
Bakers decorate cakes and confections that help people celebrate the great moments of life. They also make warm, nourishing rolls and sweetbreads that add extra motivation to many people's morning routines. Community bakers often become part of the neighborhood's family traditions with influence that reaches multiple generations.
Making bread and pastries from scratch is more than combining ingredients in the right amounts. Like painters, sculptors, and performing artists, the products they make can inspire, sooth, and rejuvenate us.
Perfecting the Art of Baking
Artists learn the fundamentals of their chosen medium in many ways. Some teach themselves using whatever resources they have available and trial and error. With time and talent, these aspiring bakers may be able to build a future from their passion. Those who want a more direct path may benefit from a formal training program.
Like all artists, bakers need to learn their trade from an experienced master. Baking school teaches students the basics of working in a commercial kitchen. They may not be qualified to fill a lead baker position, but they will have a solid foundation in baking science. This enables graduates to work in bakeries led by innovative and exciting bakers who will show them even more techniques.
A formal baking school program could expose students to a variety of ingredients, techniques, and methods. The knowledge they could acquire is always current and from a trustworthy source. Self-taught students tend to focus on one or two methods. This stunts their ability to come up with fresh, interesting recipes. While a self-taught student can find success as an apprentice, it would take an enormous amount of talent or luck for them to reach the level of lead baker.
Baking school is the most efficient way to learn the art of baking. Just as architects need a solid foundation in mathematics and drawing, bakers need the knowledge provided by baking school programs to reach their full artistic potential.
Benefits of Baking School
Future-oriented students can use their baking school diploma to jump-start their job search and put themselves in the best position for success.
Graduates can choose their positions based on personal goals instead of simply needing experience.
Bakery school students work together to learn their chosen trade. The time they spend together builds a sense of camaraderie that lasts a lifetime. These friends can be a great source for job references, opportunities for learning and exploration, or even future business partners. The instructors and counselors are also a good information source after graduation and can be instrumental in landing that first job.
Do you have a passion and talent for baked goods of all kinds? If you want to earn a Diploma in Baking and Pastry Arts, ECPI University's Culinary Institute of Virginia offers this program at an accelerated rate. For more information about signing up, connect with a helpful admissions advisor today.
It could be the Best Decision You Ever Make!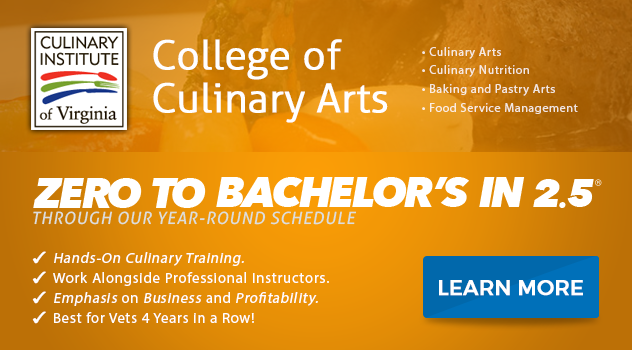 DISCLAIMER – ECPI University makes no claim, warranty, or guarantee as to actual employability or earning potential to current, past or future students or graduates of any educational program we offer. The ECPI University website is published for informational purposes only. Every effort is made to ensure the accuracy of information contained on the ECPI.edu domain; however, no warranty of accuracy is made. No contractual rights, either expressed or implied, are created by its content.
For more information about ECPI University or any of our programs click here: http://www.ecpi.edu/ or http://ow.ly/Ca1ya.