Why is Cloud Computing the Future? Studying Towards a Career with Longevity
You have most likely heard of the new trend where people put data in the cloud. But what is the cloud? According to Microsoft Azure, cloud computing is the delivery of hosted computing services such as storage, servers, networking, databases, analytics, software, and many more over the internet. Cloud computing enables businesses to consume only the resources they need.

Importance of Cloud Computing
Cloud computing has several benefits compared to traditional ways of doing business. First, professionals manage services for business owners meaning that they don't have to worry about viruses, licenses, or updating software. What's more, business owners don't have to back up their files because there are cloud computing professionals handling the entire computing infrastructure. Other benefits of cloud computing include:
Saving on costs
In the past, it was expensive for businesses to deploy, run, and manage local systems, which required a lot of capital. Most of these systems required skilled people who also had to be compensated with a lot of money. However, with the cloud business owners no longer need to deploy, run, and manage systems.
Enables businesses to keep up with the latest technology
Business owners no longer have to worry about updating or upgrading. With the cloud, business owners get the latest servers that are always updated with the newest version. After a new patch is released, it is automatically deployed so that business owners don't have to worry about technicalities.
Backup
One of the most complex and time-consuming activity for most businesses is backing up data. Some of the traditional ways of backing up data included using tapes or drives and manually collecting and sending them to a backup facility.
This type of backing up data is prone to problems such as time wastage when loading the backup devices for a restore procedure and running out of backup media. However, cloud-based backup allows business owners to automatically back up their data to any location without facing security, capacity, or availability issues.
Why People Say the Cloud is the Future
Cloud computing is not only a smart choice for modern businesses but also a necessity. Cloud computing is the current trend in the IT field and most people say that it's the future for most businesses. This is because:
The cloud enhances speed and agility: Today's business environment evolves at an accelerating pace. For instance, in the year 2007, Blackberry topped the smartphone industry while Apple's biggest product seller was the iPod. However, by 2014 Apple sold over $150 billion worth of iPhones while Blackberry almost went bankrupt.
This shows how important businesses have to respond quickly to the ever-changing business needs. Traditional IT processes cannot match today's speed. Most of the time provisioning resources can take weeks and even months and this slows down the reflexes of a business. However, cloud computing avails resources in minutes. This means that businesses can respond to market developments more rapidly.
The cloud encourages innovation: The success of any business today relies on more than just speed. One of the critical aspects of business growth is innovation which involves developing new offerings, evaluating market adoption, and rolling out successful innovations. The cloud benefits business innovation by availing resources more quickly than traditional IT infrastructure. The quick availability of resources enables businesses to experiment with new offerings quickly and receive user feedback without waiting for months.
Why You Should Work in Cloud Computing
As more and more companies migrate to the cloud, the number of cloud computing jobs has swelled. This explains why most people who work in IT are focusing more on updating their cloud skills to meet the high demand. Although the high demand and guaranteed job security are enough reasons to work in the cloud computing industry, there are more reasons, including:
Cloud computing has varied jobs which means that you won't have to be stuck in one discipline. From architects and developers to technicians, analysts, security managers, engineers, and administrators, there are several entry points in this line of work.
Global information technology giant Gartner has predicted that worldwide cloud computing services will grow by over 21 percent, up from $153.5 billion to $186.4 billion.
According to the 2016 LinkedIn's top skills list, cloud computing was ranked as the number one skill that will get you hired.
Why you Should get Formal Cloud Computing Training
Formal cloud computing education will equip you with the knowledge and skills to design and operate cloud computing platforms
You will learn how to transform the infrastructure of a business into one that can efficiently deliver services through the cloud
You will be able to prove your skills with a degree
You will be in a better place to take certification tests and be able to further prove your skills
Are you interested in the cloud? If you want to earn a Bachelor of Science Degree in Computer and Information Science with a Major in Cyber and Network Security - Cloud Computing Track, ECPI University offers this program at an accelerated pace. For more information on this exciting degree, connect with a friendly admissions advisor today.
It could be the Best Decision You Ever Make!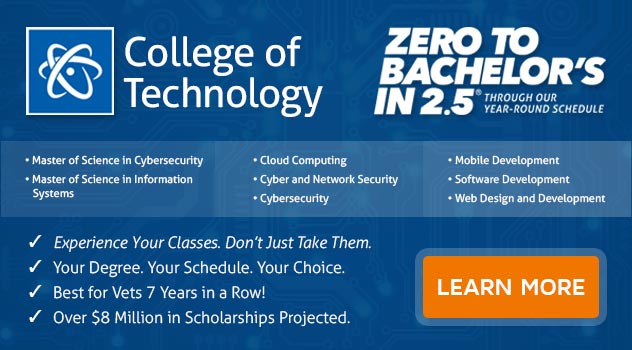 DISCLAIMER – ECPI University makes no claim, warranty, or guarantee as to actual employability or earning potential to current, past or future students or graduates of any educational program we offer. The ECPI University website is published for informational purposes only. Every effort is made to ensure the accuracy of information contained on the ECPI.edu domain; however, no warranty of accuracy is made. No contractual rights, either expressed or implied, are created by its content.
Gainful Employment Information – Cloud Computing Track - Bachelor's
For more information about ECPI University or any of our programs click here: http://www.ecpi.edu/ or http://ow.ly/Ca1ya.