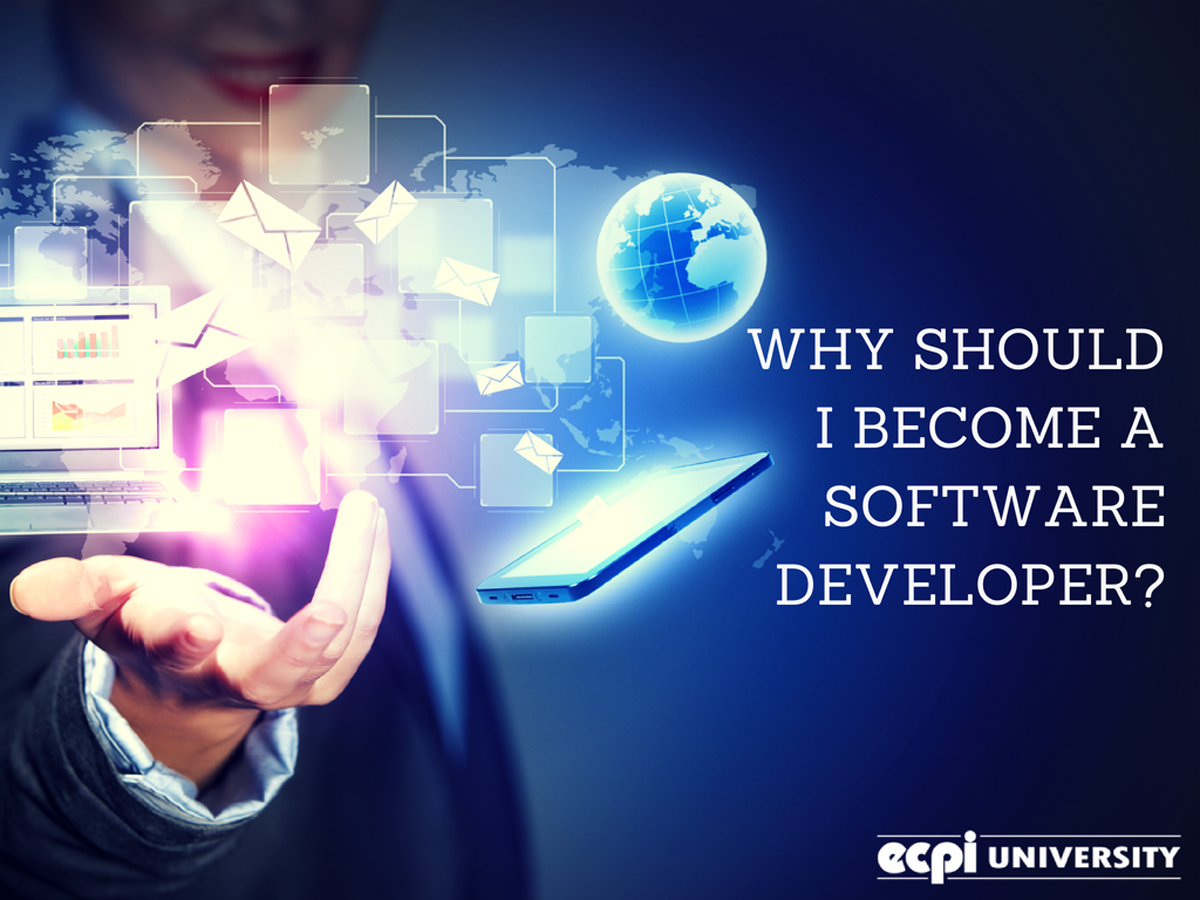 When it comes to predicting job growth, there is no crystal ball. However, we can identify trends. There are certain career fields that continue to grow and will likely be important in the future, including healthcare, financial services, and web development. Then there are careers that touch nearly every industry on earth. Such is the case with software development.
What Does a Software Developer Do?
Given just how tech-centric our everyday lives are, a better question might be – what doesn't a software developer do? From your favorite games, word processing software, and apps, software developers have a huge hand in every aspect of them. Moreover, the world's leading companies often gain and maintain their market dominance by employing innovative software in the product development process. As a result, the range of companies and industries that can hire you as a software developer is vast. Opportunities abound in a number of fields:
the healthcare field depends largely on the efforts of doctors and the machines they use – which requires software to facilitate diagnoses, financial information, medicine dosages, and more
the financial sector is almost wholly software-driven; the programs to keep track of accounts and company networks are becoming more involved
video game consoles and computer gaming rigs are selling like never before – every aspect of this industry is software-driven; even down to the hardware
legal services are highly software-dependent
How Much Does a Software Developer Make?
Given the breakneck pace of mobile development, tablet devices outselling desktop computers, the explosive increase in online apps and more relating to computers, it's clear that software development skills will be at a premium for a long time to come. When skills are in demand, it means wages are competitive. In 2012, the US Bureau of Labor Statistics determined that the national median pay per year for software developers was $93,350.00. That's almost $45 an hour, and for a field where just a bachelor's degree is needed for the entry-level position.
Using Your Creative Mind
If you've ever used a computer program and wondered how you can make it better fit your needs, or what effect an entirely different program would have, then you may be a natural software developer. A creative mind is just as important – more-so, arguably – than the computer programming courses you'll need to be able to make your ideas a reality onscreen. There's also a high amount of gratification in software development; just imagine a program you helped design being used by friends and family.
A degree in computer science is where you begin. The sooner you complete it, the sooner you can begin earning a living. At ECPI University, you can earn a bachelor's degree in just 2.5 years though our year-round program. For more information about ECPI University and its Software Development Program, visit our website at www.ecpi.edu.
DISCLAIMER – ECPI University makes no claim, warranty or guarantee as to actual employability or earning potential to current, past or future students or graduates of any educational program we offer. The ECPI University website is published for informational purposes only. Every effort is made to ensure the accuracy of information contained on the ECPI.edu domain; however, no warranty of accuracy is made. No contractual rights, either expressed or implied, are created by its content.
Gainful Employment Information
For more information about ECPI University or any of our programs click here: http://www.ecpi.edu/ or http://ow.ly/Ca1ya.