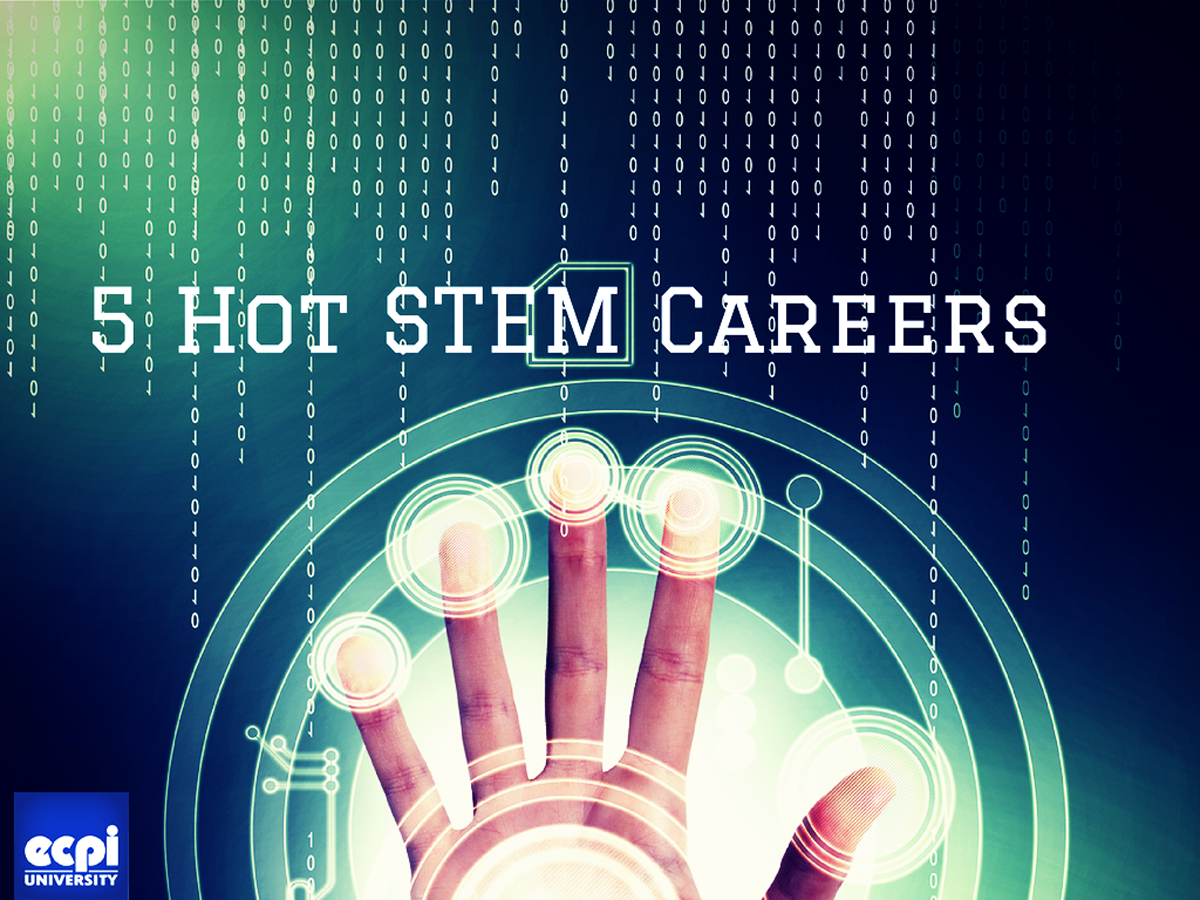 For those of you not familiar with the term STEM, it is an acronym for "Science, Technology, Engineering, and Mathematics." According to the Office of the President of the United States, jobs in STEM-related fields are projected to grow exponentially over the next decade with demand outpacing the number of qualified applicants by one million. Although there can be a substantial commitment to education and training in order to qualify for a STEM position, the pay off can be seen in the expected job growth and earning potential (see below).
So whether you are a high school student getting ready to graduate or you have already graduated and are in the work force but looking to change careers to a more stable or lucrative career field, those who choose a career path in the STEM seem to have a bright future indeed. Check out these 5 Hot STEM Careers That College Bound Students Should Know About!
Web Developer
This is an often overlooked and rapidly growing career field with an expected growth rate of 20% through 2022, according to the Bureau of Labor Statistics (BLS). More organizations are becoming connected to and reliant on the Internet for business communications, and this requires the need for specialists who not only can design a web site, but manage site content, traffic, and fine tune it for search engine optimization.
With only an associate's degree required for starting out, the Bureau of Labor Statistics estimates job seekers can expect to earn an average of $62,000 a year in web development.
Network Security Specialist/Analyst
This highly technical field has an expected growth of 37% between 2012 and 2022, according to the Bureau of Labor Statistics. Network Security Specialists work in both the private and government sector, defending computer information networks from the ever-increasing threat of cyber-attacks. Entry-level educational requirements for this job are a bachelor's degree in a computer related field.
The annual median income for a Network Security Specialist is around $86,000.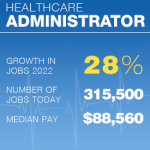 Healthcare Administrator
Healthcare Administrators work as managers and executives in a variety of healthcare delivery environments, including hospitals, clinics, and medical offices. They are responsible for the efficient planning, directing, and coordination of healthcare services. The minimum educational requirement is a bachelor's degree although it is not uncommon for a requirement of a master's degree.
This medical management job field is expected to grow in the near future by about 23% with an average income at about $88,560 per year, according to the Bureau of Labor Statistics.
Accountant
As businesses expand across the country, there is always a need for those who handle the financial records and taxes. With an expected growth of 13% over the next ten years, there will be a consistent demand in this occupation. A bachelor's degree in accounting and finance is required for this occupation, and many go on to become CPA's (Certified Public Accountants).
An accountant can expect to earn on the average of about $63,000 per year, according to the Bureau of Labor Statistics.
Software Developer
Software Developers are the creative force that design and manage the entire process of software and network systems development. The average annual median income for a software developer is, according to the Bureau of Labor Statistics, around $93,000. Educational requirements are a bachelor's degree in computer science or science engineering.
Employment in this field is expected to grow 22% between 2012 and 2022, which makes software development an attractive career option.
These are just five of the hot STEM careers that are expected to have faster than average growth over the next decade. The opportunities for employment in growing science, technology, engineering and mathematics specialties are becoming more apparent as the world moves to an increasingly reliant state on technology.
If you are interested in learning more about these (or any other) STEM Careers and what it would take to get started on a new and exciting career path, contact ECPI University TODAY! It could be the BEST decision you ever made!

DISCLAIMER – ECPI University makes no claim, warranty or guarantee as to actual employability or earning potential to current, past or future students or graduates of any educational program we offer. The ECPI University website is published for informational purposes only. Every effort is made to ensure the accuracy of information contained on the ECPI.edu domain; however, no warranty of accuracy is made. No contractual rights, either expressed or implied, are created by its content.

Gainful Employment Information:
For more information about ECPI University or any of our programs click here: http://www.ecpi.edu/ or http://ow.ly/Ca1ya.