Mechanical Engineering Technician: Job Description
If you're interested in the field of mechanical engineering technology, you probably have a lot of questions. What is a mechanical engineering technician, exactly? What do they contribute to the manufacturing field? How do you become a mechanical engineering technician? On the top of the list is most likely; what would your job be like if you were a mechanical engineering technician?   
So, What's the Job Description for a Mechanical Engineering Technician?
The good news is that this is a job with a variety of opportunities in the manufacturing field. Your duties may include assisting mechanical engineers with several different tasks such as designing, development, testing, and manufacturing mechanical devices. These devices could include tools, engines, or machinery.
Not only this, but your duties could also include sketching and creating rough layouts, recording and analyzing data, and reporting findings after making calculations and estimates. All of these tasks will be done within a manufacturing setting or a research and development lab, prior to manufacturing.
What Requirements are there to Become a Mechanical Engineering Technician?
Now that you know what a mechanical engineering technician does for work, you might be wondering how you become one. First of all, you need at least an associates degree from an accredited college. This education, including math, theory, and practical application, will prepare you for the workplace.
But a successful mechanical engineering technician is not just educated, they also have several qualities which lend themselves well to the job. Here are some of the "soft skills" you will need if you want to shine in the manufacturing field.
Communication: Being able to communicate clearly is essential when working with colleagues to troubleshoot a problem or create a manufacturing innovation. You must be able to explain your thoughts and concerns orally and through writing.
Detail Oriented: When taking measurements, troubleshooting problems, and keeping records, you have to be exact. Being able to keep an eye on all of the little details and organize everything effectively will help you immensely in this field.
Math Familiarity:  Remember how your third grade teacher told you how you would need to memorize those multiplication tables because you would use them in your daily life? Well, in this position, this is actually true. You will need strong math skills in order to take measurements, do conversions, and make calculations.
Mechanical Skills: Since your job will involve working closely with manufacturing equipment, you probably will need to know how to operate it. Items such as engine lathes and drill presses could be a part of your everyday routine. Even if you don't work directly with this equipment, you must have an understanding of how and why it works.
What is the Salary for a Mechanical Engineering Technician?
Now that you know what a mechanical engineering technician does and what skills and education you need to become one, you're probably wondering about job outlook and salary for this position. The Bureau of Labor Statistics (BLS) states the median salary for this kind of technician is $53,910. However, the median pay varies depending on which industry you're working in. For example, the BLS reports a mechanical engineering technician working in a research and development in physical, engineering, and life sciences industry has a median pay of $58,970.  
The career outlook for this position is a little sluggish, but still moving forward. The BLS reports job growth at a rate of 2% between 2014 and 2024. It also notes the most advancements will be made in the employment of mechanical engineering technicians in engineering services.
Are you interested in a career as a mechanical engineering technician? If you'd like to learn more about earning a degree in this exciting field, be sure to contact ECPI University today! A knowledgeable admissions representative can discuss your options with you and see if a Bachelor of Science in Mechanical Engineering Technology is right for you.
It could be the Best Decision You Ever Make!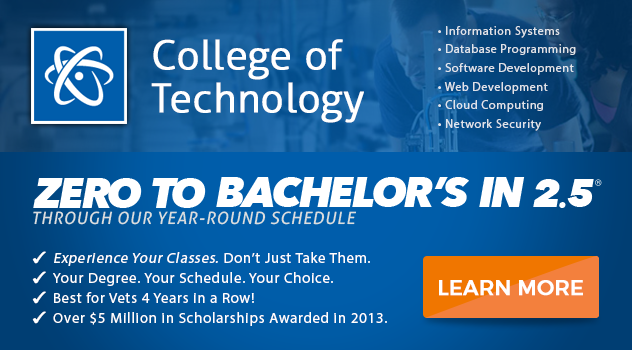 DISCLAIMER – ECPI University makes no claim, warranty, or guarantee as to actual employability or earning potential to current, past or future students or graduates of any educational program we offer. The ECPI University website is published for informational purposes only. Every effort is made to ensure the accuracy of information contained on the ECPI.edu domain; however, no warranty of accuracy is made. No contractual rights, either expressed or implied, are created by its content.
Gainful Employment Information – Mechanical Engineering Technology - Bachelor's
For more information about ECPI University or any of our programs click here: http://www.ecpi.edu/ or http://ow.ly/Ca1ya.