Mechanical Engineering Technology: Could this be the Right Field for Me?
Mechanical engineering is a terrific career, but if you're more interested in hands-on machine design, testing, manufacturing applications and operations, mechanical engineering technology (MET) may be the field for you. Our country was built on manufacturing in the '40s and '50s, and thanks to the political push to bring jobs back home to America (plus robotics development and advanced electronics), MET in the United States is becoming an in-demand profession.

MET Is a Tech Career
If you think mechanical engineering technology is a get-your-hands dirty job, think again! The specialized equipment used in MET requires more brain-power than motor oil. Many employers can't find the highly-skilled workers they need because of the advanced equipment used in MET.
Mechanical engineering jobs are expected to increase about 5% though 2026. "Mastering new technology and software will likely become more important for workers in this occupation," says the Bureau of Labor Statistics (BLS). "Those who gain skills to help deploy the latest technological developments, such as three-dimensional design software, should have the best job prospects."
Employment for MET Professionals
A Manufacturing Institute's Skills Gap report cited a shortage of skilled workers; in fact, of more than 800 U.S.-based manufacturers, 90% indicated they face a shortage of skilled production employees. "It's only logical that the competition for talent that can manage and operate manufacturing assets will only heat up as companies look to bring back their operations," said Manufacturing.Net.
The largest employers of mechanical engineering technicians in 2016 were (in order):
Architectural and engineering services
Machinery manufacturing
Transportation equipment manufacturing
Computer/electronic product manufacturing
Scientific research and development
Some of the titles for MET professionals may include:
Drafting and Computer Graphics Engineer
Industrial Engineer
Manufacturing and Quality Management Engineer
Mechanical Engineering Consultant
Plant Maintenance Manager
Power and Energy Engineer
Product and Materials Testing Technologist
Production Manager
Product Engineer
Transportation Engineer
What Types of Classes Do You Need to Become a Mechanical Engineering Technician?
To earn an undergraduate degree in MET, you'll need to focus on these areas of study:
Computer-aided engineering
Electro-mechanical devices
Manufacturing processes
Material science
Mechanical design/analysis
Technological instrumentation/controls
Thermal-fluid-energy sciences
You'll also need to acquire professional behavior skills and work ethics that are appropriate for the type of technological work environment and/or clients for which you'll be working.
Have you ever wondered why some college classes are "applied" and others are just…classes? For example, what's the difference between "applied math" vs. "math" classes? When a class is "applied," that means it is an area of study that uses real-world examples. You don't just learn about something; you learn how it will be used in your job.
Your curriculum may include some (but probably not all!) of these courses:
3-D Modeling
Analog Electronics
Applied Engineering Programming
Applied Fluid Mechanics
Applied Heat Transfer
CNC Machines
Computer Configuration
DC & AC Circuits
Digital Systems
Engineering Dynamics
Engineering Graphics Communications
Engineering Math/Software Apps
Engineering Mechanisms
Machine Design
Machine Tools
Manufacturing Materials Science/Processes
Mechanical Design Applied Strength of Materials
Motor Drives
Bachelor of Science in Mechanical Engineering Technology
Are you interested in the world of engineering technology? If you want to earn a Bachelor of Science Degree in Mechanical Engineering Technology, ECPI University offers this course at an accelerated pace. For more information about this exciting opportunity, connect with a knowledgeable admissions counselor today.
It could be the Best Decision You Ever Make!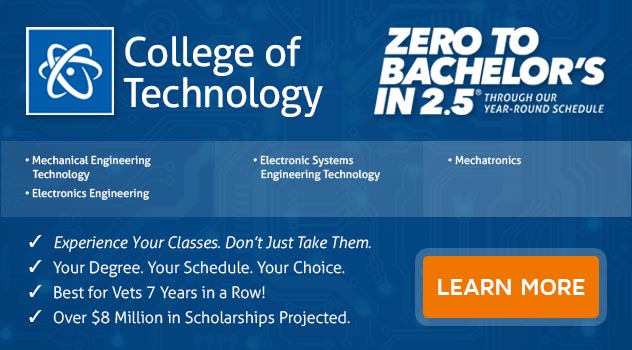 DISCLAIMER – ECPI University makes no claim, warranty, or guarantee as to actual employability or earning potential to current, past or future students or graduates of any educational program we offer. The ECPI University website is published for informational purposes only. Every effort is made to ensure the accuracy of information contained on the ECPI.edu domain; however, no warranty of accuracy is made. No contractual rights, either expressed or implied, are created by its content.
Gainful Employment Information – Mechanical Engineering Technology - Bachelor's
For more information about ECPI University or any of our programs click here: http://www.ecpi.edu/ or http://ow.ly/Ca1ya.