MET Degree Online: Can I Really Earn My Bachelors Online?
Mechanical Engineering Technology involves the application of technological developments and engineering principles to the creation of resourceful machinery and products. Technicians could use software tools like Computational Fluid Dynamics and Finite Element Analysis to analyze parts and assemblies. Moreover, 3D models can be utilized to represent parts and assemblies through Computer Aided Design.
A Mechanical Engineering Technologist (MET) often carries titles such as Product Development Engineering Technologist, Manufacturing Engineering Technologist, Mechanical Designer, Product Engineering Technologist, and many more.
If a career in Mechanical Engineering Technology sounds appealing to you, a bachelor's degree in Mechanical Engineering Technology could be your best bet. The program could provide students with the necessary education and training required to provide high-level technical support to a myriad of industrial, commercial, governmental, and consulting applications.

Skills and Qualities a Successful MET Technician
Mechanical Engineering Technology graduates are equipped with the knowledge and skills to appreciate the ethical responsibilities of a technologist. Some of the areas they focus on include Continuous Quality Improvement as well as the continuous impact of globalization design, manufacturing, and marketing. Graduates are trained to handle a wide range of materials and methods that are safe, economically competitive, and environmentally and aesthetically appealing.
Typical responsibilities of a MET technician include development and evaluation of machines and mechanisms, organization and supervision of manufacturing processes, instrumentation, quality control, control and testing of processes, technical sales and marketing, energy management, and design of mechanical systems for heating and cooling.
Mechanical engineering technicians typically require the following knowledge and skills to be successful in their careers:
Ability to evaluate design drawings for brand new tools or modified tools by measuring dimensions on the drawings and counterchecking with the original specifications.
Ability to prepare layouts and drawings of machine parts to be made.
Communication skills to discuss changes with coworkers.
Ability to review instructions and blueprints for various projects to ensure than test specifications and procedures are adhered to.
Ability to plan, build, and assemble mechanical parts for products.
Ability to record test procedures and results, recommendations for changes, and numerical and graphical data.
Mechanical engineering technicians may also estimate labor costs, plant space, and equipment life. Some MET technicians also work with engineers to troubleshoot and eliminate production problems.
Career Opportunities for MET Technicians
Mechanical Engineering Technology is quite a broad engineering discipline that offers several career possibilities. The duties of a MET technician vary by industry and function. With a bachelor's degree in Mechanical Engineering Technology, you could work in manufacturing plants, federal, state, and other government agencies, and engineering and business service companies.
In a manufacturing setup, your duties may include development and evaluation of machines, facilitating operation and management of machines, design of mechanical systems, quality control, and supervision of workers. MET graduates may also work in research centers where they may develop or set up equipment, design prototype mechanical systems, or complete experiments. Areas of consulting, production operations, administration, and technical sales are also suitable for MET technicians.
Benefits of Pursuing MET Programs Online
Online bachelor's degree program in Mechanical Engineering Technology can be appealing to working MET technicians. It provides a flexible means to earn a bachelor's degree while maintaining current employment. Distance learning students can use textbooks, video files, audio files, and other web-based content to gain knowledge and skills in a virtual classroom setting. Moreover, you can interact with your classmates and instructors through discussion boards, web conferencing, e-mails, and chat rooms.
Online students simply need a reliable computer with standard operating systems and web browser. However, some schools may have specific minimum hardware requirements. You'll need a computer system that can run computer-aided design software and other programs that may be part of the curriculum. Be sure to check and make sure your computer can handle whichever online program you sign up with.
Mechanical Engineering Technology Job Overview
If a hands-on career in design, testing, operations, or manufacturing is what you're looking for, then the Mechanical Engineering Technology program may be your best fit. The field still has a number of jobs waiting to be filled. This is because modern manufacturing is gaining grounds, thanks to robotics and advanced electronics.
Many employers look for highly-skilled workers to work with various advanced equipment. According to statistics from the Manufacturing Institute, 67% of manufacturers report moderate to severe shortage of qualified MET technicians while 56% expects the shortage to worsen over the next 3 to 5 years.
Ready to Start Your Future with ECPI University Online?
Are you interested in MET and want to study online? If you want to earn a Bachelor of Science Degree in Mechanical Engineering Technology, consider ECPI University Online. For more information about this exciting opportunity, connect with a knowledgeable admissions counselor today.
It could be the Best Decision You Ever Make!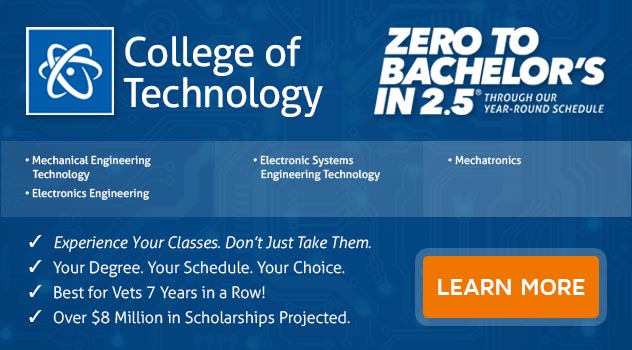 DISCLAIMER – ECPI University makes no claim, warranty, or guarantee as to actual employability or earning potential to current, past or future students or graduates of any educational program we offer. The ECPI University website is published for informational purposes only. Every effort is made to ensure the accuracy of information contained on the ECPI.edu domain; however, no warranty of accuracy is made. No contractual rights, either expressed or implied, are created by its content.
For more information about ECPI University or any of our programs click here: http://www.ecpi.edu/.