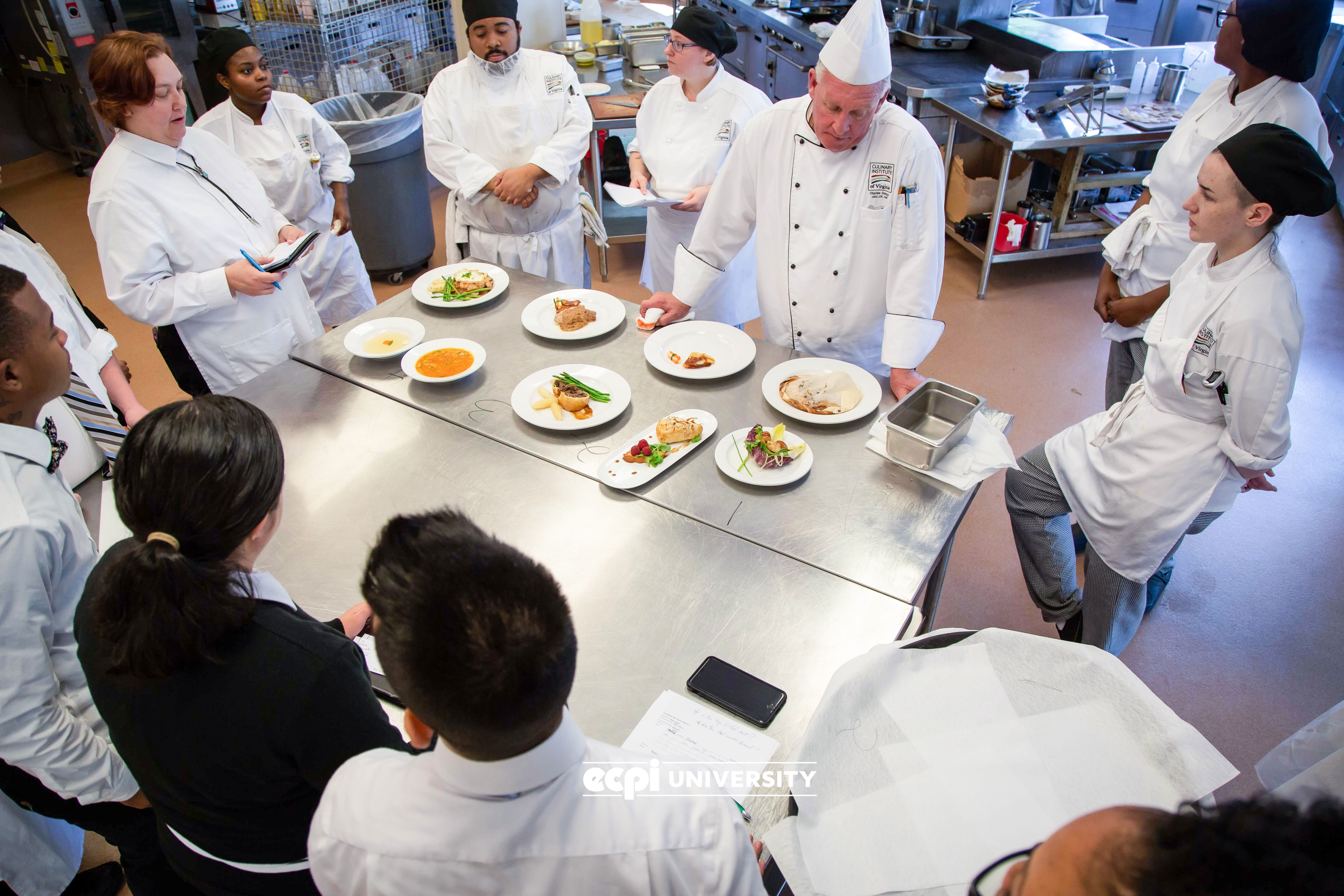 A New Culinary School in Richmond, Virginia
Richmond, VA is a great place to visit (The NY Times ranks it as a top destination site for cultural and historical tourism). Richmond is also one of the top dining destinations in the U.S. In 2020, the president of Richmond Tourism said it is, quite simply, a "foodie town."

Richmond, VA: The Perfect Food City
Huffington Post calls Richmond, Virginia (RVA) the perfect food city, and notable magazines (including Bon Appetit!) agree. RVA is a great place to pursue a career in culinary arts. Here are 6 reasons why:
Chefs: You've seen some of them on popular television shows. Richmond, VA chefs specialize in culinary arts from down-home like-Mom-cooks meals to European gourmand delights.
Farms: Fresh vegetables and fruits are abundant in Henrico County, Virginia. Farm-to-table restaurant dining is one of the latest culinary trends among gourmands. With 45,000 farms in Virginia, chefs have the opportunity to prepare the freshest, finest meals in the country.
Location: The Susquehanna, Potomac and James Rivers feed into the United States' largest estuary, Chesapeake Bay. Freshwater seafood is available 24/7, but if diners prefer oysters and shrimp, Southeast Virginia borders the Atlantic Ocean. Carnivores can dine on Virginia-grown beef, chicken broilers, hogs, and turkeys. In fact, broilers are Virginia's number-one agricultural commodity.
Markets: You don't have to be an executive chef of a popular restaurant to create dishes that feature high-quality, local ingredients," says discoverrichmondtours.com. Fresh ingredients and great food at good prices are available from any of numerous Richmond, VA shops and farmer's markets.
People: Tourists are a large part of Richmond, VA's dining population, but the people that live here are avid foodies. If RVA residents had a motto it might be, "So much food. So little time!"
Spirits: There are certainly many ghosts of American history in Richmond, but there are also more than 300 wineries in Virginia. Award-winning vineyards produce red, rose, and white vinos for superior dining experiences. And with more than 200 Virginia craft breweries, restaurant chefs can recommend some of the finest beers in the country.
The Culinary Institute of Virginia Opens a New Campus in Richmond, VA
With locations in Norfolk and Virginia Beach, the Culinary Institute of Virginia is expanding its unique flavors to "foodie town" Richmond, VA. This location is near Henrico County's Innsbrook Business Park. Campus is open for tours with aspiring chefs now!
Classes are set to begin in spring 2022 and include Culinary Arts, Culinary Nutrition, Food Service Management, and Baking & Pastry Arts.
You can find some of the best culinary schools in the country in Richmond, Virginia. At such institutions, you could learn:
Baking and Pastry Arts
Next year, you could be celebrating with a gourmet cake you created. Many believe this is the most artistic and creative area of culinary professionalism.
Culinary students of the Baking and Pastry Arts course can expect coursework including:
Alternative baking techniques for allergies/specialty diets
Baking/pastry recipes for various production levels
Ensuring a safe/sanitary baking shop
Foundations of the baking/pastry industry
Culinary Arts
You could graduate with an Associate of Applied Science in Culinary Arts degree in as little as 15 months and prepare meals that keep customers coming back to your restaurant. Train with experienced chefs and learn about the business of preparing and serving food. Get hands-on experience at exciting externships and take advantage of the opportunity to hone your skills.
Coursework for this degree may include:
Advanced baking/pastry arts
Applied culinary nutrition
Baking/pastry fundamentals
Cooking methods/principles
Culinary artistry
Dining room/Service management
Food service supervision
Garde-manger (cold food preparation)
Healthy cooking
International ingredients, methods, and cuisines
Kitchen organization
Meat, seafood, and poultry fabrication
Mise en place (food preparation)
Plating/Presentation
Purchasing/Storeroom management
Recipe/Menu development
Sanitation/Safety
Culinary Nutrition
In as little as 15 months at some culinary schools, you could be ready to begin your new career in dietary management. An Associate of Applied Science in Culinary Nutrition degree can open doors to exciting opportunities in Richmond, VA -- or the world!
The program may include education in:
Alternative cooking/baking techniques
Baking/Pastry fundamentals
Cooking methods/principles
Dietary conditions/therapies
HACCP (hazard analysis critical control points) planning/production
Ingredient integrity/sourcing
Kitchen organization
Meat, seafood, and poultry fabrication
Menu planning/development
Mise en place (food preparation)
Nutrition analysis
Patient service/etiquette management
Plating/Presentation
Purchasing/Storeroom management
Recipe modification
Sanitation/Safety
Food Service Management
The business of dining involves more than cooking good foods. Restaurants operate within budgets and require profitable operations professionals. Your courses will focus on employee management, operations, and financial decision-making. A Bachelor of Science in Food Service Management degree is needed for supervisory positions in many restaurants and organizations.
Courses of study may include:
Accounting/Financial management
Beverage programs
Budgeting/Forecasting
Business Ethics
Customer service systems
Facility design/management
Income management/cost control
Industry leaders
Marketing
Project management
Restaurant simulation
Strategic planning/implementation
Workforce diversity
Good Taste Begins with You in the Kitchen
A career in culinary arts can be exciting, especially if you study in a dynamic city like Richmond, VA! If you want to earn an Associate of Applied Science Degree in Culinary Arts or a Bachelor of Science in Food Service Management, the hands-on training by experienced faculty is available at ECPI University's Culinary Institute of Virginia.
Our College of Culinary Arts is a preferred institution of learning because:
We offer an accelerated schedule - If time is money, you could be on your way within 15 months. With our year-round class schedules, you can earn an associate degree in as little as 15 months or complete a bachelor's degree in as little as 2.5 years.
You'll benefit from hands-on education - You'll learn by doing in addition to traditional classroom work. This type of training better-prepares you for a real-world culinary career.
You'll have a home away from home - Culinary Institute of Virginia is a comfortable, engaging environment where you'll make friends for life. Our Richmond-Innsbrook campus is dedicated to food service studies and culinary extracurricular activities like school-sponsored competitions, catering events, and community service.
Why wait? Learn more about becoming a culinary professional and pursue your passion for cooking!
Are You Ready to Get Started on Your Education?
Education is the key to a fulfilling and long-term culinary arts career. Start your journey with an Associate of Applied Science degree in Culinary Arts from the Culinary Institute of Virginia at ECPI University. Connect with a friendly admissions advisor today for more information on this exciting program.
It could be the Best Decision You Ever Make!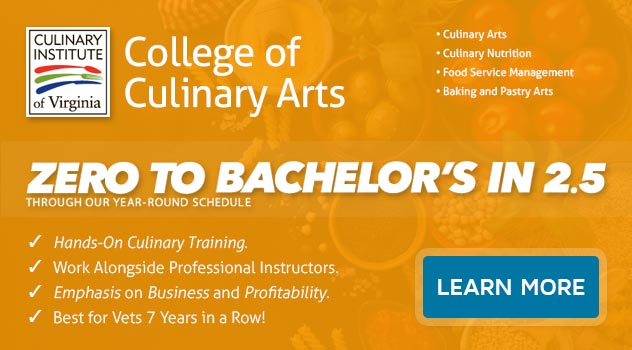 DISCLAIMER - ECPI University makes no claim, warranty, or guarantee as to actual employability or earning potential to current, past or future students or graduates of any educational program we offer. The ECPI University website is published for informational purposes only. Every effort is made to ensure the accuracy of information contained on the ECPI.edu domain; however, no warranty of accuracy is made. No contractual rights, either expressed or implied, are created by its content.
For more information about ECPI University or any of our programs click here: http://www.ecpi.edu/.