Put aside that pocket calculator! The accounting industry is filled with people who love what they do and who have a diverse selection of potential employers. The work is far from boring; the work accountants perform is about much more than numbers, although figures play a big role in the profession. If you're considering accounting as a career, take a look at the surprising facts below.

Accountants are happy. Accountemps did a survey indicating that seven of 10 accountants would choose accounting all over again if they had a chance to pick their profession anew.
The outlook for the industry is bright. Accounting and auditing jobs are forecast to grow 11 percent from 2014 to 2024, according to the Bureau of Labor Statistics (BLS). This rate is faster than the average for all jobs and is partly due to globalization. Other factors driving the growth include economic expansion and a tax and regulatory structure that are anything but simple. One example of the role economic expansion plays is this: when companies go public, they need accountants to take care of the documentation required by law.
In 2014, accountants and auditors filled about 1.3 million positions in the United States, according to the BLS. Among the top five industries employing these professionals are the government and the manufacturing industry. Accounting and related services top the list, employing 26 percent of accountants.
What accountants like most about their jobs: solving problems. Working with numbers, making recommendations, learning new technologies, and working with people are other top pleasures of the job.
The pay can be excellent! In May 2014, the median yearly wage for an accountant was $65,940, according to the BLS. The top 10 percent of accountants pocketed more than $115,950, while the bottom 10 percent earned less than $40,850.
If you want to go where the highest-paying accounting jobs are, head first to the District of Columbia. Accountants living there earn a mean of $90,220 yearly, reports the BLS. Rounding out the top-five list are New York, New Jersey, Maryland and Massachusetts.
Want to go where the jobs are? The most accounting jobs are in California. You may also find plenty of opportunities in Texas, New York, Florida, and Pennsylvania. However, accountants truly are in demand everywhere.
International Accounting Day is on November 10. It's a great day to recognize the special accountant(s) in your life! The date gets its significance from an accounting-related book published on the same date in 1494.
Accountants use considerable reading, writing, communication and collaboration skills in addition to their math, and logic skills.
You can work for virtually any employer when you have an accounting degree. Prime example: more than 2,000 accounting special agents work for the FBI.
Do you enjoy watching the Oscars? Accountants help make the show possible. A team of CPAs spends 1,700 hours on average counting the ballots by hand.
Accountants often have their choice of job types. For example, public accountants work for large companies, government agencies, and private individuals. These accountants deal with taxes and auditing in addition to accounting. In contrast, internal auditors keep an eye on a company's or organization's funds to check for mismanagement. External auditors perform much the same work as internal auditors do, but external auditors are paid by a different business from the one they are auditing. Information technology auditors use their knowledge of computer systems to safeguard the purity of financial data, and management accountants formulate information and reports for managers, not the general public, to use. Budgeting, asset management, and the cost of doing business are a few of the typical issues that management accountants deal with. Government accountants keep up with the records of government agencies. They also audit individuals and businesses as necessary to ensure their compliance with tax law.
Many accountants specialize. Some teach higher education courses, for example, while others may work in fields such as risk management, health care, or assurance services. Some job titles for accountants include forensic accountant, budget analyst and staff accountant.
Accounting is a field in which entry with an associate's degree is possible. For instance, people with such degrees could get bookkeeping or accounting clerk jobs, and work their way up. However, most employers prefer job applicants to have at least a bachelor's degree in accounting or a related field, explains the BLS.
You could get a bachelor's degree in accounting in just two and a half years, depending on the school and program you choose.
Get Started! Earn an Accounting Degree
Does a career in accounting sound like a good match for you? Contact ECPI University TODAY to receive more information about earning your Bachelor of Science in Business Administration with a concentration in Accounting. It could be the Best Decision You Ever Make!
I'm so glad I left John Tyler to go to ECPI. It's crazy that by this time next year I'll already be graduated. #ready #timeflies

— Kimmm  (@kbrookee93) September 4, 2014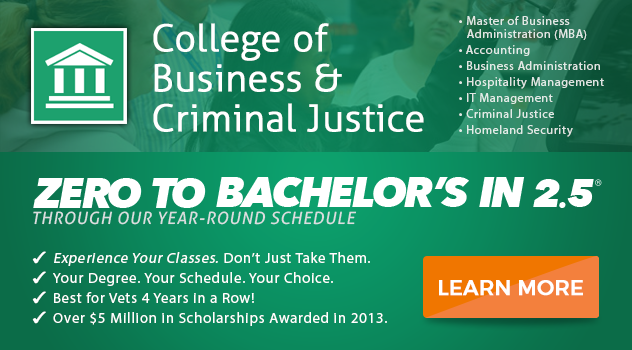 DISCLAIMER – ECPI University makes no claim, warranty, or guarantee as to actual employability or earning potential to current, past or future students or graduates of any educational program we offer. The ECPI University website is published for informational purposes only. Every effort is made to ensure the accuracy of information contained on the ECPI.edu domain; however, no warranty of accuracy is made. No contractual rights, either expressed or implied, are created by its content.
Gainful Employment Information – Accounting - Bachelor's
For more information about ECPI University or any of our programs click here: http://www.ecpi.edu/ or http://ow.ly/Ca1ya.