How Does Culinary School Work?
Cooking is an art and for those who love to cook, the masterpieces that can be created are nothing short of spectacular. While you may know how to mix and measure, it takes professional training to learn the finer points of the field and perfect the skills required to elicit excited responses from your diners.
If you are willing to put forth the effort and pay attention to your instructors, the sweet rewards are worth every bit of effort when you graduate from culinary school.
The Ingredients of Coursework
Culinary school coursework cover a wide variety of subjects. Your classes will probably include the history of various cooking techniques and styles, the chemistry and science of cooking, as well as the basics of table service and restaurant set-up. There are also classes in business management, marketing, accounting, and the more logistical elements that go into operating a successful restaurant. Each of these courses form part of the puzzle that you need to master when you enter the culinary profession.
Culinary school teaches you the tips and tricks of the trade, including how to use the knives and tools inherent to the profession. Your instructors will impart upon you the nuances of food and wine, and teach you how to combine ingredients to create culinary masterpieces. From day one to graduation, it is a hands-on learning experience that gives you a solid foundation in theory that is reinforced in real-world application.

The Daily Grind
Working in a professional restaurant means that you will be working mornings, days, nights, weekends, and holidays. Your schedule will shift and flow depending on the needs of the restaurant and the Executive Chef which means you need to be flexible and adaptable. Most work in the restaurant will be repetitive and involve hour upon hour of food preparation. In fact, there may be days when you may spend the entire day prepping a single vegetable or tending to a single soup. You will spend a considerable amount of time mastering recipes and making sure that every ingredient goes in at the proper time and in the proper quantity. You can also expect to spend days and weeks perfecting and honing plating and presentation techniques.
As your skills grow and you master each station, you may pick up additional responsibilities that include filling in for Sous Chefs, training new line chefs, and developing new dishes and specials to attract customers. The work is long and hard, and contrary to what you may have seen on Food Network and the hours you have spent watching Emeril Lagasse, Rachael Ray, and Mario Batali, there are no quick and easy rides to the top. To reach the top, you will need to strap on your apron, sharpen your knives, adjust your toque blanche, and get down to work.
Prepping for Culinary Success
Graduating from culinary school will help open doors to some of the best restaurants in the country. However, that doesn't mean you are going to start out as the head chef at a top-tier restaurant. A diploma from a culinary arts program merely opens the door, and once that door is open, that's when the real work begins.
Most restaurants will start you out on the line and that means long hours and hard work as you start your climb up the ladder. Like a fine soufflé, time and timing are everything. You will have to put in your time and seek out the opportunities to move from line to sous chef, and ultimately, head chef.
Are you interested in attending culinary school? If you want to earn an Associate of Applied Science in Culinary Arts, ECPI University's Culinary Institute of Virginia offers this degree program at an accelerated rate. For more information, connect with us today and talk with a helpful admissions counselor.
It could be the Best Decision You Ever Make!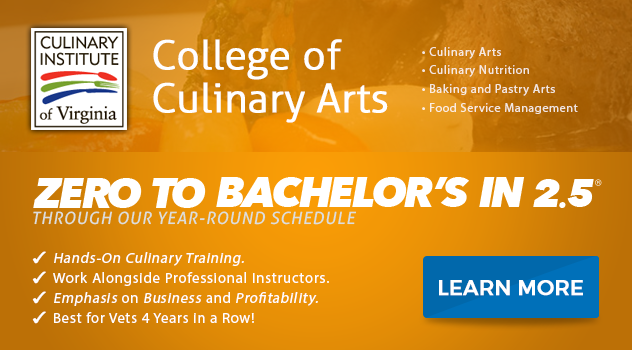 http://www.ecpi.edu/ or http://ow.ly/Ca1ya.