What can a Dental Assistant Legally Do in their Job Duties?
Choosing a career can be a confusing process and it's important that you take your time before you make such a big decision. One of the industries that you can consider is the healthcare industry. According to The Atlantic, this is the fastest growing industry out there.
Therefore, working in this industry could mean that you might have a long and prosperous career. If you're passionate about helping other people and the idea of working in the healthcare industry appeals to you, but you don't want to spend years in school, then you should consider becoming a dental assistant.

Reasons why you should consider a Dental Assistant Career
Transform lives: One of the main benefits of becoming a dental assistant is transforming the lives of your patients. Apart from enhancing their health, you will help create smiles that will boost your patient's confidence and self-esteem.
Easy training: Unlike other dental careers, training to become a dental assistant is usually easier and takes a shorter time to complete. Although you don't need a degree to become a dental assistant, most dental clinics favor candidates with a dental assistant associate degrees.
Network with people and create life-long relationships: One of the skills you will acquire in college is the ability to connect with your patients. Such bonds could develop into lifelong relationships with both your patients and your coworkers.
Career advancement opportunities: Most people choose to work as dental assistants because of the career advancement opportunities. Although a career as a dental assistant can be a lifelong career, you can use your experience to advance. For instance, after working as a dental assistant for a few years you can further your education and become a hygienist. You could also specialize in a field, such as orthodontics.
You won't get bored: As a dental assistant you will have numerous tasks to handle and you will rarely if ever get bored. You will perform different tasks each day and you will always find yourself doing something.
What Dental Assistants Do
A dental assistant career is a great option to explore; it can be fast-paced, challenging and fun. A dental assistant is a valuable and respected member of the dental team and performs various duties in the dental field including:
Greet patients and walk them to the exam room and ensure they are comfortable in the dental chair
Prepare dental instruments the dentist will use. This can include setting up trays, sterilizing dental tools, and disinfecting the equipment
Hand instruments to the dentist and use the suction equipment to ensure the patient's mouth remains dry throughout the procedure
Process X-rays
Organize dental records
Assist dentists to make temporary crowns
Assist the dentist in making casts of teeth
Educate patients on how to protect and keep their teeth clean
Clean the exam room after an examination or dental procedure
What is it like to be a Dental Assistant?
Although different dental offices have their unique ways of running things, there are things you should know regardless of where you choose to work:
You will be part of a team: A successful dental office works together as a team. An efficient team of dentists, dental hygienists, dental assistants, lab technicians, and receptionists helps keep everyone on schedule and the patients are happy. Therefore, to work as a dental assistant you need to be able to work as part of a team.
Expect to continue your education: A good education never stops. Because healthcare is always changing and new technology is always being invented, you will have to keep up. Therefore, after you start working as a dental assistant, it's important that you continue learning. Apart from advancing your knowledge, you will also educate your patients every day.
Be ready to handle administrative duties: Nowadays, most jobs come with some administrative responsibilities, and working as a dental assistant is no different. You will be expected to schedule appointments, handle office management tasks, and work with suppliers.
Work in a patient-focused environment: Despite the tight schedules, patient's needs always come first. Some of the patients can be difficult, especially if they are scared of the dentist. As a dental assistant, part of your job entails making patients comfortable and cared for. This means you have to be calm, friendly, and compassionate.
Importance of Education in this Career
Greater knowledge: Unlike a person with just a high school diploma, you will have the knowledge and skills to help patients improve their smiles.
More job opportunities: When evaluating job candidates, more and more employers are considering dental assistants with a college degree.
Improved confidence: With a dental assistant degree, you will stand out more than others because you know you're more competent.
Are you interested in becoming a dental assistant? If you want to earn an Associate of Applied Science in Health Science with a Concentration in Dental Assisting, consider ECPI University for our accelerated program. For more information on this exciting opportunity, connect with a helpful admissions advisor today.
It could be the Best Decision You Ever Make!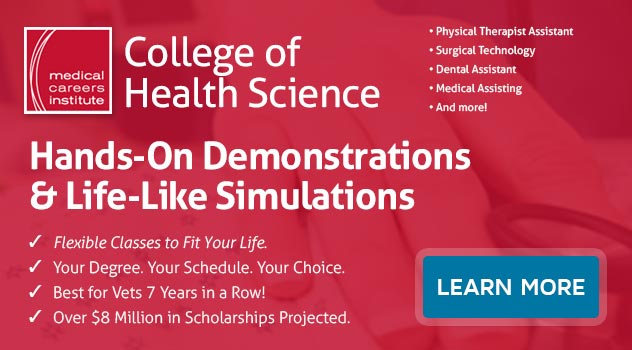 DISCLAIMER – ECPI University makes no claim, warranty, or guarantee as to actual employability or earning potential to current, past or future students or graduates of any educational program we offer. The ECPI University website is published for informational purposes only. Every effort is made to ensure the accuracy of information contained on the ECPI.edu domain; however, no warranty of accuracy is made. No contractual rights, either expressed or implied, are created by its content.
Gainful Employment Information – Dental Assisting - Associate's
For more information about ECPI University or any of our programs click here: http://www.ecpi.edu/ or http://ow.ly/Ca1ya.