What is Kitchen Culture: How Can I Find my Place in a Professional Kitchen?
Warning: This is not your grandmother's kitchen. It's hotter, more crowded, more intense, and there's a lot more riding on the quality of the risotto. It's a professional kitchen, and it has a culture of its own.
If you've ever watched one of the many reality TV cooking shows, you've gotten a little taste of what it's like to work in a professional kitchen. It's where individuals work as a team, in close proximity, each dependent on the next. It can get exciting and intense.

What is kitchen culture exactly?
Maybe it's not Gordon Ramsay-yell-curse-and-create-an-uncomfortable-scene intense, but it is a work environment unlike any other. Every professional kitchen shares a common culture.
The professional kitchen has it's own language, vibe, values, customs, and distinct ways of doing things--it's own culture.
Whether you aspire to celebrity chef status or want to work in a family style setting, you're going to want to become a student of kitchen culture. Because the sooner you understand it, the sooner you'll be able to find your place in a professional kitchen.
Here's your study guide:
You've got to learn the language
Every industry has its own language. Sometimes there are formal terms you need to know in order to succeed. Other times people use slang to get their points across.
In a professional kitchen, it's a combination of both.
You've got to know the difference between "blanching" and "braising." You've got to know what "mise-en-place" means, how to "refire" something, and how to say "Yes, chef" with enough enthusiasm to inspire confidence in your abilities.
There are literally dozens and dozens of terms that you aren't likely to hear anywhere but in a professional kitchen. Learning them sooner rather than later will make finding your role a lot easier.
You've got to know your place
Before you can find your place in a professional kitchen, you've got to know your place. This means being incredibly familiar with the different parts of the kitchen--the receiving area, storage area, preparation area, and of course the cooking area.
You've got to know them like you do the back of your hand. You've got to understand the role each plays in getting plates to the tables. And you've got to know how to use all of the tools and equipment that live in each area.
Once you know your way around the kitchen, finding your place within it will be a lot easier.
You've got to feel the need for speed
Professional kitchens tend to be fast-paced, dynamic, exciting, sweat-inducing cauldrons of cooking excellence. Your colleagues working on the hot line, cold line, dessert line, and any other lines might love you like a sibling, but they are not going to have time to wait while you leisurely peel the potatoes.
After all, there are paying customers eagerly waiting for food. In order to succeed in a professional kitchen, you've got to be able to cook fast -- you've got to feel the need for speed.
You've got to understand that there is no "I" in "TEAM"
You know all of those celebrity chefs you see on TV? The ones with their own reality shows, cookbooks, and lines of pots and pans? They never would have achieved greatness if not for their colleagues.
The chefs might get all the credit, but there are many other people working behind the scenes who help make it all happen. You have the sous chef, prep cooks, line cooks, pastry chef, stewards, porters, and dishwashers.
They all work together to make sure professional kitchens succeed. And people who can't work as part of a team don't tend to fit in too well. So make sure you understand that there is no "I" in "team."
You've got to have skills
Someone who doesn't have any cooking skills stands out in a professional kitchen like a sore thumb. Because professional kitchens move so fast, everyone is expected to have skills -- culinary skills, knife skills, food preparation skills, good old fashion cooking skills.
You never know which skills you're going to need on any given day. One day you might be prepping, the next night you might be grilling. You just never know.
So if you want to fit in, you're going to want to develop your skills.
Ready to get started?
If you're ready to immerse yourself in the study of kitchen culture, consider the Associate of Applied Science Degree in Culinary Arts from ECPI University's Culinary Institute of Virginia. For more information about this accelerated program, connect with a friendly admissions advisor today.
It could be the Best Decision You Ever Make!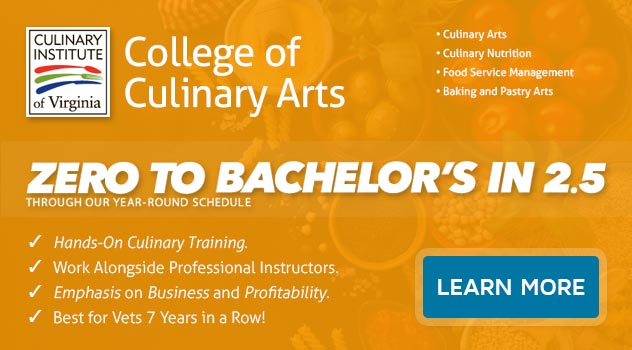 DISCLAIMER – ECPI University makes no claim, warranty, or guarantee as to actual employability or earning potential to current, past or future students or graduates of any educational program we offer. The ECPI University website is published for informational purposes only. Every effort is made to ensure the accuracy of information contained on the ECPI.edu domain; however, no warranty of accuracy is made. No contractual rights, either expressed or implied, are created by its content.
Gainful Employment Information – Culinary Arts - Associate's
For more information about ECPI University or any of our programs click here: http://www.ecpi.edu/ or http://ow.ly/Ca1ya.