Air Force and Space Force General Education Mobile (GEM)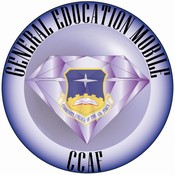 GEM is a partnership between the Community College of the Air Force, Space Force and civilian academic institutions to offer a group of general education classes through a web-based platform. ECPI University has partnered with GEM to offer general education courses online for Air Force personnel who want to complete their CCAF Associate of Applied Science (AAS) degree requirements. ECPI's quality online courses meet the CCAF standards and degree completion requirements.
Approved Courses
The following GEM approved courses are available:
COM115 Principles of Communication
ENG110 College Composition
ENG120 Advanced Composition
PSY105 Introduction to Psychology
SOC100 Introduction to Sociology
MTH131 College Algebra
HUM205 Culture and Diversity: Exploring the Humanities
Course Enrollment
Click here to enroll into the GEM Program. Print, complete, sign and fax or email (RTimmons@degree.ecpi.edu) the agreement with a copy of your Web Progress Report to 757-257-0064 – Attention: Rebecca Timmons.
* Active Duty Air Force, Space Force, Reserve, or Air Guard using Tuition Assistance for the CCAF AU ABC or GEM programs will pay $250 per credit hour.
ECPI General Education Mobile (GEM) Courses
COM115 Principles of Communication
ENG110 College Composition
ENG120 Advanced Composition
PSY105 Introduction to Psychology
SOC100 Introduction to Sociology
MTH131 College Algebra
HUM205 Culture and Diversity: Exploring the Humanities
ECPI General Education Mobile (GEM) Class Schedule
The following term dates apply to all courses (changes per term schedule)
 
ECPI General Education Mobile (GEM) Term Schedule
TERM 1
TERM 2
TERM 3
TERM 4
TERM 5
JAN 23-FEB 26
FEB 27-APR 2
APR 3-MAY 7
MAY 8-JUN 11
JUN 12-JUL 23
TERM 6
TERM 7
TERM 8
TERM 9
TERM 10
JUL 24-AUG 27
AUG 28-OCT 1
OCT 2-NOV 5
NOV 6-DEC 10
DEC 11-JAN 21
 
ECPI General Education Mobile (GEM) Courses
COURSE ID
COURSE NAME
CREDITS EARNED
COM115
Principles of Communication
3
ENG110
College Composition
3
ENG120
Advanced Composition
3
HUM205
Culture and Diversity: Exploring the Humanities
3
MTH131
College Algebra
3
PSY105
Introduction to Psychology
3
SOC100
Introduction to Sociology
3