ECPI University - A Military Friendly School®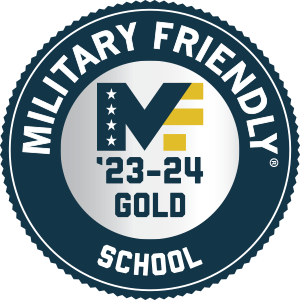 What Does it Mean to be a Military Friendly® College?
We are proud to have been named a 2023 Military Friendly® School, marking the eighth year we've been honored with this distinction. Created by Victory Media, publisher of G.I. Jobs®, STEM JobsSM, and Military Spouse, the designation provides service members and their families with transparent, data-driven ratings about post-military education and career opportunities.
Colleges named to the Military Friendly® Schools list are required to complete a survey of more than 100 questions covering a vast array of criteria.
The Military Friendly® Schools designation is awarded to the top colleges, universities, community colleges, and trade schools in the country-schools that are doing the most to embrace military students, and to dedicate resources to ensure their success both in the classroom and after graduation.
"For eight years, ECPI University has been recognized as Military Friendly® because of our commitment to educating military and veteran students," says ECPI Executive Director of Military Education Bill Brown. "We are continually focused on providing the services and support that help our veterans earn their degree, and successfully transition into the civilian sector."
Each day, the faculty and staff at ECPI University strive to surpass that goal, an initiative that begins with investing the resources necessary to help military and veteran students succeed. Military education professionals agree that there are certain areas in which a college or university must excel to meet the needs of a military or student veteran. Here are a few of them:
Support and Services for Military
Does the college or university have a liaison or service director? At ECPI University, we have that and more. Our executive director of military education is a retired Navy captain who works closely with faculty and staff. Specifically, he works to ensure everyone is attuned to the needs of military and veteran students.
In addition, ECPI University is a VSOC school, which is short for VetSuccess on Campus. This is an initiative launched by the Department of Veteran Affairs (VA), whereby the VA places an experienced VA counselor on campus to help student veterans ease the transition to civilian life. These counselors maintain close relationships with local VA Vet Centers and VA medical facilities, referring them as needed for counseling or medical services and providing assistance enrolling in and applying for VA benefits.
Military Partnerships
It takes a collaborative atmosphere to properly serve military and veteran students. That's why ECPI University is aligned with a great many organizations, all dedicated to a common goal:
Marine Corps Career College Program
ArmyEd
Air Force General Education Mobile
Yellow Ribbon Program
All students with 100% GI Bill® eligibility is on full scholarship

A group of more than 1900 institutions that accept credits from one another

Military Spouse Career Advancement Account (MyCCA) program
Concurrent Admissions Program
Student Veteran Organizations
Most of ECPI University's campuses have very active chapters that are part of Student Veterans of America (SVA). Students who belong to SVA enjoy it for countless reasons. For one, it provides a sense of camaraderie with others who share a common past. It can also provide a support system for student veterans where they can rely on one another when challenges arise. It also provides an opportunity for vets to engage with the entire student body through the chapters' many community and campus service projects.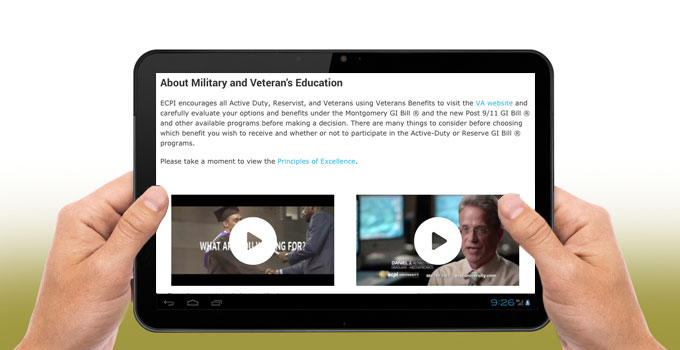 Web Presence & Online Military Resources
Credits
A military friendly® school accepts military credits following the American Council on Education (ACE) guidelines and understands how to evaluate ART, SMART, and CCAF transcripts.
Veteran Testimonials
At the end of the day, it matters little what we say about ourselves. It's what student veterans and graduates say that really counts:
"ECPI University has bolstered my confidence in my ability to succeed outside of the military. When I got here, I was a pretty good writer. ECPI has made me better. In areas where I was less skilled, my instructors were by my side every step of the way."

- Athena Williams, Navy Veteran and Criminal Justice Grad
"It was a great feeling knowing I had the full support of my school to jump-start my career. The education I got was fantastic, and it translates directly into my new job as a production test technician."

- Joe Cayse, Marine Corps Veteran and Online Electronics Engineering Technology Graduate
"I use what I learned at ECPI University every single day. Whether it's basic project management, marketing, or accounting, I use all of it to understand my target market and grow my business."

- Graduate Tabitha Sewer, Air Force Veteran and Business Administration Graduate
Military Benefits with SCRA
ECPI University appreciates the sacrifices of America's service members and wants to ensure that service members understand and utilize the private student loan benefits that may be available to them.
Per the Service Members Civil Relief Act ("SCRA"), service members are provided interest rate relief when called into active duty.
Interest rate is capped at 6%.
Applies to loans disbursed prior to deployment or call to active duty.
Co-borrowers are also eligible for the benefit.
Proof of military mobilization or deployment is required to qualify.
Benefit is effective as of deployment date and ends 90 days after discharge of active duty.
Request can be submitted anytime during active duty or up to 180 days after leaving the service and will be applied retroactively to active duty date.
Important Considerations
Payments will remain due while you are away so please plan accordingly.
Consider enrolling in monthly automatic payments to keep your account current.
Consider obtaining Power of Attorney during deployment period.
Contact the Financial Assistance office, your Federal Loan Servicer or visit StudentAid.gov to determine eligibility for federal loan benefits.
Having Financial Difficulties?
Contact the Financial Assistance Office
Contact Tuition Options at 800.423.5513 to discuss the options available to you.
You may be able to lower your payments through a loan modification.
Ultimately, "Military Friendly®" has to be more than just a slogan - for the faculty and staff at ECPI University, it is truly a guiding principle. President Theodore Roosevelt once said, "A man who is good enough to shed his blood for his country is good enough to be given a square deal afterwards." We couldn't agree more. Get in touch today to learn more about ECPI University's military friendly resources or to view a full list of our year-round, accelerated degree programs. We can't wait to show you how we support and enrich the lives of our military.