ECPI University Ranked Best for Vets College
Educating a military or veteran student is a sacred responsibility--one for which ECPI University has long been committed. Every year, our efforts pay off as military and veteran students graduate and embark upon the next chapter in their lives. That alone is thanks enough. However, it is nice when others recognize our commitment to excellence.
Such is the case this year, as Military Times has once again recognized ECPI University as the number one school in the nation for military and veteran students.
What Sets ECPI University Apart from Other Colleges?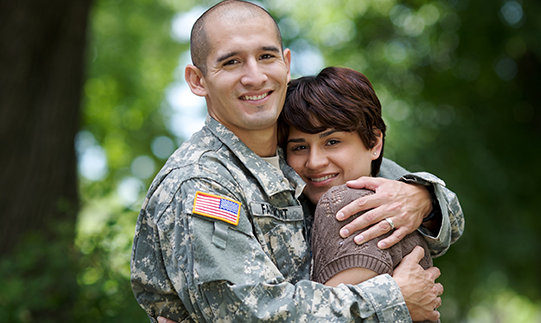 Practical Learning Mimics Military Training
At ECPI University, we try to accommodate some of the barriers veterans, active duty, and military families face and offer programs that align with their skill sets. Most notably, we offer a practical learning environment that closely resembles what they experienced in the military.
In selecting schools for its Best for Vets ranking, Military Times required colleges and universities across the nation to fill out a 120-question survey. Editors collected data from the Veteran Affairs Department, Defense Department, and three Education Department databases, detailing everything from veteran-related policies to average salaries after graduation.
What Makes Us a Military Friendly School?
Any school can claim it's military friendly. But it's what a school does, not what it says, that matters. "Military Friendly" reflects a dedication and willingness to commit the needed resources to help vets succeed.
"To me, military friendly means remembering what it was like for me to get my Associate of Applied Science and my Bachelor of Science degree while being a full time member of the U.S. Air force, a father to four children, and a husband," says ECPI University Newport News Campus Director of Academic Affairs Tony Rufi. "That's why I do all that I can to make it work for my military brothers and sisters in arms."
Being military friendly is about making education accessible. It begins with a dynamic, individualized education plan, augmented with proactive counseling to keep our student veterans on track.
VSOC School
The Department of Veteran Affairs (VA) has recognized our commitment to veterans. ECPI University was selected to join the VetSuccess on Campus, or VSOC, program, making it one of just 94 colleges and universities in the nation to be a part of this initiative.
"VetSuccess on Campus is an innovative approach to help Veterans in the often difficult transition from military service to academic life. Placing experienced VA counselors directly on college campuses strengthens VA's partnership with institutions of higher learning and creates myriad opportunities to help Veterans succeed."

Allison A. Hickey, VA's Under Secretary for Benefits
Why ECPI University?
There are so many reasons why veterans prefer ECPI University; here are just a few:
Flexible Scheduling
Attend school mornings, evenings, weekends or online
Year-Round Classes
Enables vets to complete education faster
Yellow Ribbon participant and approved to offer VA Benefits
Anyone with 100% eligibility for the GI Bill® is on full scholarship
Our Partnerships
We partner with the Navy College Program Distance Learning Partnership, Navy College Program for Afloat College Education, Marine Corps Career College Program, ArmyEd, and Air Force General Education Mobile
Air Force Approval
We are approved by the Air Force to offer online baccalaureate degree programs to Airman participating in the Air University Associate-to-Baccalaureate Cooperative
We Support Military Families
We support Military Spouses by partnering with the Military Spouse Career Advancement Account program
Experienced Career Services Advisors
People who know how to translate military experience into civilian skills
"Serving our veterans, active and reserve service members, and their families is an opportunity for all of us to improve the economic security of those who have protected us and our freedoms," says ECPI University Campus President and Naval Reserve Commander James Rund. "We show these great Americans how to positively and productively face the challenges of transitioning into civilian employment through quality education. We have a moral obligation to provide them the same dedication and commitment they have shown through their sacrifice of service to our country."
Veterans Feel At Home at ECPI University
Ultimately, veterans succeed when they feel comfortable with their surroundings. At ECPI University, faculty and staff strive daily to create a campus culture that values veterans. Most campuses have active Student Veterans of America (SVA) chapters that provide opportunities for vets to rekindle the camaraderie they experienced in the military. These SVA chapters also create an environment where vets can encourage one another, leaning on people who share similar backgrounds and experiences.
What's particularly impressive is the hours of service each of these chapters provide. As busy as they all are, so many ECPI University student veterans find time to help out with community service projects supporting organizations like Toys for Tots, Wounded Warriors, and the American Red Cross.
"Working with Veterans keeps me humble, because they are selfless and know the value of commitment and taking care of others, not because anyone is looking at them, but because they know it's the right thing to do, they are also great for providing perspective to younger students, and even mentoring skills. They know how to give back to the community; they've been doing it their entire careers!"

Culinary Arts Faculty Member Lt. Col. Katherine Bryant (U.S. Army Retired)
Find Your New Start at ECPI University
Are you ready for a new start? View ECPI University's many flexible, in-demand degree programs in technology, health science, nursing, business, criminal justice, and culinary arts—and then get in touch with us to discover the many ways we support our veterans and active duty military.